When driving through different parts of Kitsap County, you are sure to see farms tucked into neighborhoods and historic barns hiding behind the trees. We have urban farmers, multi-generational farmlands, and a plethora of farmers' markets. One thing Kitsap is not short on is delicious, healthy, locally-grown food. Here are some fun recipes using local produce. Bon Appetit!
Roasted Radishes
A quick search for radish recipes will show that this delicious veggie isn't just meant for crudités. This Roasted Radishes recipe would make a tasty side dish to compliment many summer meals. And, you can prepare it with radishes from Pheasant Fields Farm. You can find them at the Poulsbo Farmers Market, Kitsap Fresh, or the Kitsap Community Food Co-Op.
BBQ Pork Chops
Local chef Steve Spiva sells all of the spice blends you could ever dream of at his shop in Bremerton. This recipe for BBQ Pork Chops would be a delicious entrée for a summer party or a family meal. Grab some Port Townsend-raised pork from Foggy Hog Farms at the Bremerton Community Farmers Market and give it a shot. For more recipe inspiration and ways to use Spiva Spices, visit the Spiva recipes page. 
End of Summer Salad
We love this summer salad recipe because blackberries are possibly the most quintessential PNW summer food and can be found all over. Medulla Farms, a Bremerton urban farm, offers a wide selection of beautiful microgreens. They are available at Kitsap Fresh, Kitsap Community Food Co-Op or delivery through their website.
Carrot and Kohlrabi Slaw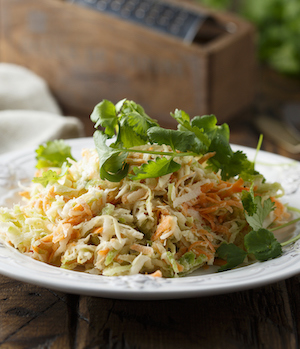 A fun variation on traditional coleslaw, this slaw recipe uses the "cabbage cousin" kohlrabi. It is offered at many local farms across Kitsap County. Check the Bremerton Community Farmers Market, Silverdale Farmers Market, Kitsap Community Food Co-Op, or Kitsap Fresh for who currently has it in stock. This slaw is packed with vitamins and would be a nice compliment to the BBQ pork chops recipe above. 
Rhubarb Crisp
Although it's associated with sweet treats, rhubarb is actually a vegetable. This rhubarb recipe allows rhubarb to be the star of the show.  Usually considered a spring-harvest plant, this year's cooler start to summer means that rhubarb is still prevalent with many local producers. Port Orchard's Sound Grown Farm offers it via Kitsap Fresh, and we bet you can find it at the Bremerton Community Farmers Market. Kick your local shopping up a notch and grab some flour from Finnriver Farm & Grainery while you are getting ingredients together.
Elderberry Mocktail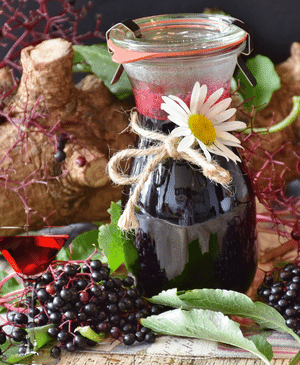 Locally-made Syllings Elderberry syrup is a popular treat for many locals. It would also make a delicious addition to lemonade, iced tea, a mocktail, or a cocktail. Here's an Elderberry Lime Immune Mocktail recipe from their Instagram. You can find their products at many local shops and farmers' markets. 
More Recipes Using Local Produce
Every 3rd Thursday of the month at the Bremerton Community Farmers Market, you can find a special "Chef at the Market" demonstration. A local chef shares recipe ideas using local ingredients in cost-effective ways.


Subscribe to Kitsap Community Food Co-Op's newsletter for fun recipe ideas and tips on what to make with current offerings. They also provide weekly fresh sheets with what is currently in stock.
Get great recipes from locals using Kitsap Fresh by joining the Kitsap Fresh Facebook group. Additionally, they email the Fresh Sheet to subscribers each week. It includes what you can order online and recipes with a shopping list of ingredients you can add to your cart.