Every summer, a wave of rubber ducks make their way across Dyes Inlet to raise tens of thousands of dollars. Known as the Silverdale Rotary Duck Race, hundreds of volunteers dedicate their time to plan and prepare this fun, one-of-a-kind fundraiser. The rules are simple. Community members who "buy" a duck will be entered into a competition to win a prize. During Whaling Days, the rubber ducks are all released and race to the finish line. Whoever's duck reaches the finish line the soonest will win one of many prizes. Most recently, the Grand Prize of the 2019 Rotary Duck Race was a Nissan truck or $16,000 cash. This race has raised over $1.6 million, which goes directly back to the community through a variety of programs and initiatives.
Silverdale Rotary Club's Impact Here and Abroad
The Silverdale Rotary Club works diligently year-round, recruiting volunteers and planning dozens of fundraisers and events to help the community. "The Silverdale Rotary Club provides grants to nonprofits across Kitsap," says Steven Boe, Rotary Silverdale Chapter President and Windermere Real Estate Agent. Some of these include Backpacks for Kids, CK Food Bank, and The Coffee Oasis. They also support homeless and environmental programs and provide dictionaries for elementary school kids. "We provide scholarships for graduating high school students, military service members of the quarter, and many more," Steven explains.
"It is really fun to volunteer for events like the Duck Race and Turkey Trot which help fundraise to provide community grants and services. Rotary service clubs and partners even offer support for different phases of disaster relief which people may not be aware of," says Julie Wurden Jablonski, Silverdale Rotary member and Windermere Broker.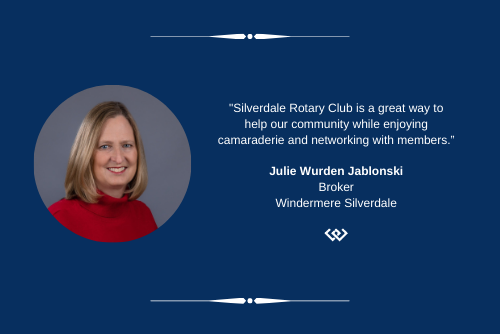 In addition to their work in our community, Silverdale Rotary Club also supports global Rotary projects since it's an international organization. In fact, there are 35,000 clubs around the world. A couple of global Rotary projects that Silverdale Rotary has supported include the eradication of Polio #EndPolioNow, and microloans for women in undeveloped countries.
Upcoming Projects and Fundraisers
Unfortunately, the Silverdale Rotary Club had to cancel last summer's Duck Race due to COVID-19. However, cash sponsors had the opportunity to pick their favorite nonprofit to receive cash grants directly. The organizations picked were The Coffee Oasis, Central Kitsap Medic One Foundation (CKM1F), and Bremerton Backpack Brigade. 
The Silverdale Rotary Club has a lot in store for 2021, including welcoming a new chapter president, Jennifer Strong. They're excited about the return of the annual Silverdale Rotary Duck Race, and a food bagging project that supports children and their families. 
"Volunteers will be bagging food and supplies the week before spring break," Steven says. "It usually supports kids of all ages, as well as their families. During the break, the school typically doesn't supply meals. For some, these bags may be the only food they eat. We utilize the school to help distribute the bags."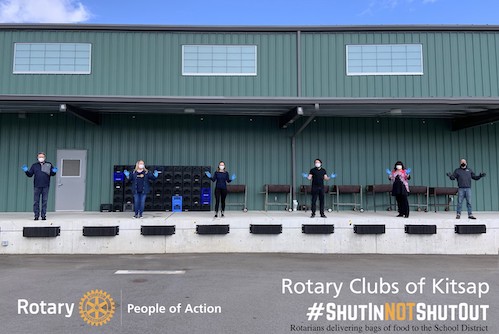 How You Can Get Involved
The Silverdale Rotary Club welcomes community support and there are many ways that you can get involved. In addition to participating in food bagging projects and buying a rubber duck for the Duck Race, you can become a member or donate! 100% of all donations go directly to help those in need. Getting involved, even in some small way, will undoubtedly help you feel more connected to our wonderful community.