Spring is in the air! Here are some of our suggestions for the best places to see Washington's spring flowers in bloom. Thankfully, there are many wonderful places near us to celebrate and appreciate this beautiful time of year. Mark your calendars and then hop in the car to check these out!
A spectacular botanical garden, the Bloedel Reserve flourishes this time of year. Undoubtedly, the Japanese Garden is a must-see for anyone who wants to experience a tranquil retreat. It has also been named one of the top ten Japanese Gardens in the United States by the Journal of Japanese Gardening. Due to the COVID-19 pandemic, tickets are released in batches and must be reserved in advance. Tickets are $17 for adults, $10 for students (13-18), and $6 for youth (5-12) with college, military, and senior discounts. They also offer annual memberships.
This botanical gem was created by Dan Hinkley and his husband, architect Robert L. Jones. It spans almost 15 acres of fantastic flora from all over the world. After lying dormant for nearly six years, Heronswood was renewed through the S'Kallam Tribe. They earnestly restored the garden to its former beauty. This spring, they will be dedicating a stumpery, an artistic display of tree stumps, that recounts the history of the S'Klallam Tribe with the local timber industry. Heronswood opens on April 1st and tickets will be $10 for adults, $5 for children (7-17), and ages 6 and younger are free.
This wonderful botanical garden is consistently expanding to feature more and more flora for visitors to enjoy. With 15 distinct areas, you'll leave in awe of thousands of aesthetically arranged plants. On April 24th, they will be hosting "The Beauty of Spring " tour from 10:00 AM – 12:00 PM. Tickets are completely free, but register online.
In April, Skagit Valley will be hosting its annual Tulip Festival. Millions of tulips collectively create an extravagant display to celebrate spring. And, fun fact: more tulip and daffodil bulbs are produced there than in any other county in the United States. Designed as a driving tour, these flower fields can be seen anytime during April completely free of charge.
For a more in-depth experience, you can visit Tulip Town every day in April from 8:00 AM – 7:00 PM. Tickets are $10 for ages 12 and up, $5 for ages 6 – 11, and kids 5 and under are free. They offer an indoor/outdoor tulip garden, trolley rides (weather dependent), local goods, treats, and more.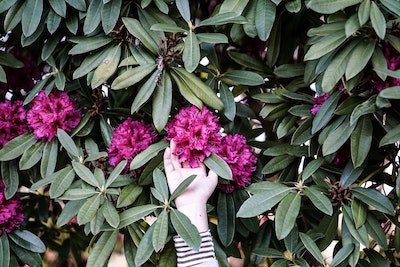 What better way to appreciate Washington's state flower than by visiting the Rhododendron Species Botanical Garden in Federal Way? Located between Seattle and Tacoma, this 22-acre woodland garden has the largest collection of Rhododendron species in the world. Get a glimpse of what they offer by watching this enticing video from 2019. Peak bloom time is mid-March through mid-May. They're open Tuesday – Sunday, 10:00 AM – 4:00 PM. Be sure to read their updated policies before visiting. General admission is $8, and it's $5 for seniors and students, free for military and children under 12.
Every year, this free festival is held at Seattle Center and it combines cultural traditions with various types of entertainment to celebrate Japanese culture. They typically have everything from martial arts demos to Japanese food, traditional music to origami contests. Due to the pandemic, the festival will be happening virtually again this year, from April 9 – 11.  Check out videos from last year's fun virtual event.
Although the University of Washington campus is typically a great place to stroll beneath the blossoming trees, UW is once again asking people to view their beautiful blossoming trees virtually this year due to COVID-19. If you're in the Seattle area, you can use the Seattle Department of Transportation's interactive map of trees to see where you can drive to enjoy blossoms. To search for cherry trees in a specific neighborhood, click the tab at the top that's titled "Explore Street Trees". Then scroll down on the left-hand side and click on "Trees By Type" to look for trees with the "Prunus" genus to view cherry or plum trees.