We're excited to welcome Broker/Realtor Avery Humlick to Windermere Silverdale. Avery puts her clients' needs first, and we love her positivity and drive. Her interesting background makes her a great fit for both buyers and sellers. Read on to find out more from our Q&A with her.
What drew you to real estate?
Growing up, I moved a fair amount around Maine, New York, and New Hampshire. I always idealized owning instead of renting. To me, that meant putting down roots. As an adult, I knew I wanted to be an informed buyer, and I took a class to get educated on what can be a complex process. Once I cracked that book, there was no going back. I knew I had the skills and passion to help others achieve their Real Estate dreams as well – whatever that looks like for them.
What unique professional skills do you possess that enhance your abilities as a Realtor?
I have always been in positions that are client-focused. In all my professional roles, I have always had to rely on communication and cues from the client to identify what is the best move for them. I really have the attention to detail and problem-solving skills to be a strong advocate throughout this process.
What personality traits do you think are important in this profession?
Integrity, and someone who is detail-oriented, persistent, and has the drive to go above and beyond. This has been true for all the roles I have worked previously. I believe that has really helped me to hone in on those skills. While there are lots of moving parts in the real estate industry, my goal is to make you feel at ease by bringing the expertise, along with those skills. You will find that this can be a fun process as well!
Which areas do you serve, and what do you love about our area?
I serve Kitsap County and beyond. I love that Kitsap has its nooks where you feel like you're in a small town. I always say Poulsbo is my very own Stars Hollow ("Gilmore Girls" reference). And yet, the big city of Seattle is just a ferry ride away. Our community really has it all, and I am seeing a boom of recreational activities happening here every day of the week.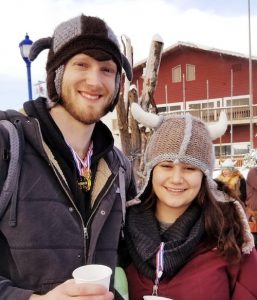 How long have you lived here, and what brought you here?
Since moving from New England, I have been in Washington for 11 years. I moved fresh out of high school when my whole family was transitioning from one coast to the other. I lived in Tacoma for most of those years, but when I came across the bridge, I was hooked and ready to put those roots down in Kitsap!
How are you involved in the community?
Previously, I had been involved with the Emergency Food Network in Tacoma. Their mission is to get food out in our communities. I frequent the Port Orchard dog park and its cleanup. My dog Quigley makes sure we are there a lot. I am looking forward to growing my involvement in this community – outside of the karaoke and trivia events that I go to often!
What made you decide to work with Windermere?
I was looking to hang my license with a company whose beliefs aligned with my own. When I found Windermere, my search stopped. I found a place that truly valued integrity, clients, and community. I love that I can help clients with what works for them and their goals – not a quota-based approach.
Is there anything else you'd like to share with us?
Yes, I am so excited to have joined a great team and company! I am here to learn as much as I can so I can be the best advocate for you and your Real Estate goals. Whatever that may be, I look forward to helping you every step of the way.
Thanks for sharing, Avery Humlick, and we're so glad you've joined Windermere Silverdale!
If you'd like to connect with Avery, check out her website.