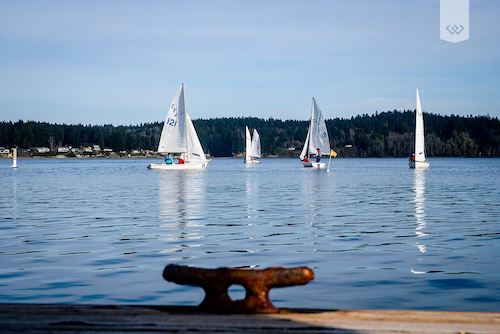 When visiting the Port of Silverdale, you can often watch local youth learning to sail, thanks to the Kitsap Sailing Foundation. This non-profit's mission is to teach the art of sailing and rowing to Kitsap's youth while building leadership, teamwork, and decision-making skills.
"Learning to sail opens up a whole new world. It is a world of almost limitless opportunities for fun, adventure, exploration, and self-achievement," says Windermere Broker Mark Danielsen, whose kids developed a deep love for sailing. In fact, his son and his niece took lessons and became youth sailing instructors. The foundation has impacted so many kids' lives, so we're shining a light on this wonderful organization.
History
In 2006, a group of volunteers formed the Kitsap Sailing and Rowing Foundation to support youth programs in Kitsap County. The foundation's volunteers assist in running programs, maintaining equipment, and coordinating boat acquisition. The Port of Silverdale and the Kitsap Sailing Foundation (KSF) partnered to continue the program. Clam Island Rowing became its own non-profit as interest in rowing grew. The Kitsap Sailing Foundation continues to provide training, mentorship, and summer camp programs while helping the port acquire new sailboats and equipment and expanding its existing curriculum.
Summer Sailing Camps for Kids and Teens
KSF offers a variety of programs, including summer sailing camps for kids and teens. No prior experience is needed. STEM education has also been incorporated into the sailing curriculum to provide an even more in-depth learning experience. The Youth and Teen Sailing Summer Camps provide an excellent opportunity for youth to learn about marine life in an unrestricted outdoor classroom. While building friendships and learning to work as a team, kids learn about topics like wind power and water quality. 
Summer camps are daily and last for one week. They will be offered this summer starting June 21, 2021 and ending August 6, 2021. Youth camps are from 9:30 AM – 12:30 PM while teen camps are from 1:00 PM – 4:00 PM. Five-day camps are $150 per session, and four-day camps are $120 per session. 
Impacting Youth in Many Ways
Getting kids and teens involved in outdoor activities can help them in so many ways. They learn to appreciate nature, stay physically active, and participate in experiential learning activities. "One of the things we have learned from the Covid-19 lockdown is how important it is for our youth to be engaging with others and staying active. We are very pleased to be able to offer sailing as an outlet for the youth to be outside, off their screens, and engaging with others," says John Bouck, President of the Kitsap Sailing Foundation.
"The Kitsap Sailing Foundation high school sailing team program has also been important to the Bremerton Yacht Club," explains Mark Danielsen. "High school sailors from Silverdale who develop their skills and become certified instructors often teach summer sailing camps at Bremerton Yacht Club as well as the Port of Silverdale."
These programs can offer long-term benefits as well, sometimes even impacting students' educational and career trajectories. "My daughter joined the Central Kitsap Sailing Team. She developed new friendships, enjoyed racing with her team throughout the PNW, and became a U.S. Sailing certified instructor," says Julie Wurden Jablonski, Windermere Broker, and Kitsap Sailing Foundation Treasurer/Board Director. Julie's daughter has "taught youth camps at the Port of Silverdale and volunteers to help coach the team. Many sailors go on to race in collegiate programs, and some have gone on to sailing and recreation careers."
Support through Kitsap Great Give or Get Involved 
If you'd like to support KSF, it is the perfect time to do so since Kitsap Great Give is going on now through April 20, 2021. Kitsap Great Give celebrates our community's spirit of generosity, supporting our local nonprofits, like the Kitsap Sailing Foundation. Sponsors boost local donations so your donation could even be doubled. Donate to the Kitsap Sailing Foundation before April 20 to make an even bigger impact.
If you'd like to support the foundation at a different time, you can make a donation on their website. Additionally, businesses can become a sponsor and have their name on the side of a sailboat. For more information, email info@kitsapsailing.org or call (360) 447-8520.
Also, the foundation welcomes community involvement. They seek certified sailing instructors for coaching, boat repair skills, and fundraising event assistance. They are also open to new community members joining their board of directors.
For more information on this year's events, follow their Facebook page.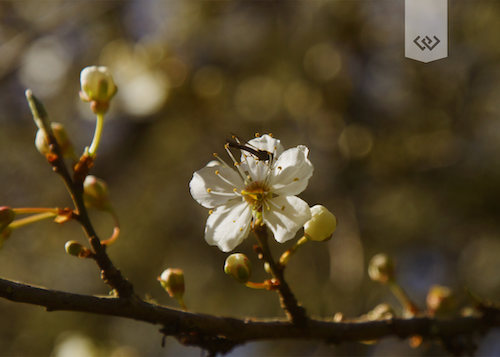 Spring is in the air! Here are some of our suggestions for the best places to see Washington's spring flowers in bloom. Thankfully, there are many wonderful places near us to celebrate and appreciate this beautiful time of year. Mark your calendars and then hop in the car to check these out!
A spectacular botanical garden, the Bloedel Reserve flourishes this time of year. Undoubtedly, the Japanese Garden is a must-see for anyone who wants to experience a tranquil retreat. It has also been named one of the top ten Japanese Gardens in the United States by the Journal of Japanese Gardening. Due to the COVID-19 pandemic, tickets are released in batches and must be reserved in advance. Tickets are $17 for adults, $10 for students (13-18), and $6 for youth (5-12) with college, military, and senior discounts. They also offer annual memberships.
This botanical gem was created by Dan Hinkley and his husband, architect Robert L. Jones. It spans almost 15 acres of fantastic flora from all over the world. After lying dormant for nearly six years, Heronswood was renewed through the S'Kallam Tribe. They earnestly restored the garden to its former beauty. This spring, they will be dedicating a stumpery, an artistic display of tree stumps, that recounts the history of the S'Klallam Tribe with the local timber industry. Heronswood opens on April 1st and tickets will be $10 for adults, $5 for children (7-17), and ages 6 and younger are free.
This wonderful botanical garden is consistently expanding to feature more and more flora for visitors to enjoy. With 15 distinct areas, you'll leave in awe of thousands of aesthetically arranged plants. On April 24th, they will be hosting "The Beauty of Spring " tour from 10:00 AM – 12:00 PM. Tickets are completely free, but register online.
In April, Skagit Valley will be hosting its annual Tulip Festival. Millions of tulips collectively create an extravagant display to celebrate spring. And, fun fact: more tulip and daffodil bulbs are produced there than in any other county in the United States. Designed as a driving tour, these flower fields can be seen anytime during April completely free of charge.
For a more in-depth experience, you can visit Tulip Town every day in April from 8:00 AM – 7:00 PM. Tickets are $10 for ages 12 and up, $5 for ages 6 – 11, and kids 5 and under are free. They offer an indoor/outdoor tulip garden, trolley rides (weather dependent), local goods, treats, and more.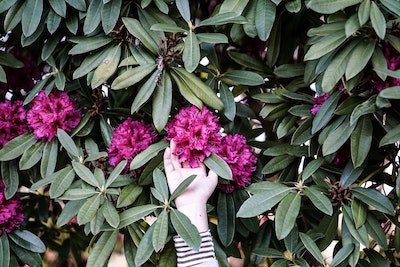 What better way to appreciate Washington's state flower than by visiting the Rhododendron Species Botanical Garden in Federal Way? Located between Seattle and Tacoma, this 22-acre woodland garden has the largest collection of Rhododendron species in the world. Get a glimpse of what they offer by watching this enticing video from 2019. Peak bloom time is mid-March through mid-May. They're open Tuesday – Sunday, 10:00 AM – 4:00 PM. Be sure to read their updated policies before visiting. General admission is $8, and it's $5 for seniors and students, free for military and children under 12.
Every year, this free festival is held at Seattle Center and it combines cultural traditions with various types of entertainment to celebrate Japanese culture. They typically have everything from martial arts demos to Japanese food, traditional music to origami contests. Due to the pandemic, the festival will be happening virtually again this year, from April 9 – 11.  Check out videos from last year's fun virtual event.
Although the University of Washington campus is typically a great place to stroll beneath the blossoming trees, UW is once again asking people to view their beautiful blossoming trees virtually this year due to COVID-19. If you're in the Seattle area, you can use the Seattle Department of Transportation's interactive map of trees to see where you can drive to enjoy blossoms. To search for cherry trees in a specific neighborhood, click the tab at the top that's titled "Explore Street Trees". Then scroll down on the left-hand side and click on "Trees By Type" to look for trees with the "Prunus" genus to view cherry or plum trees.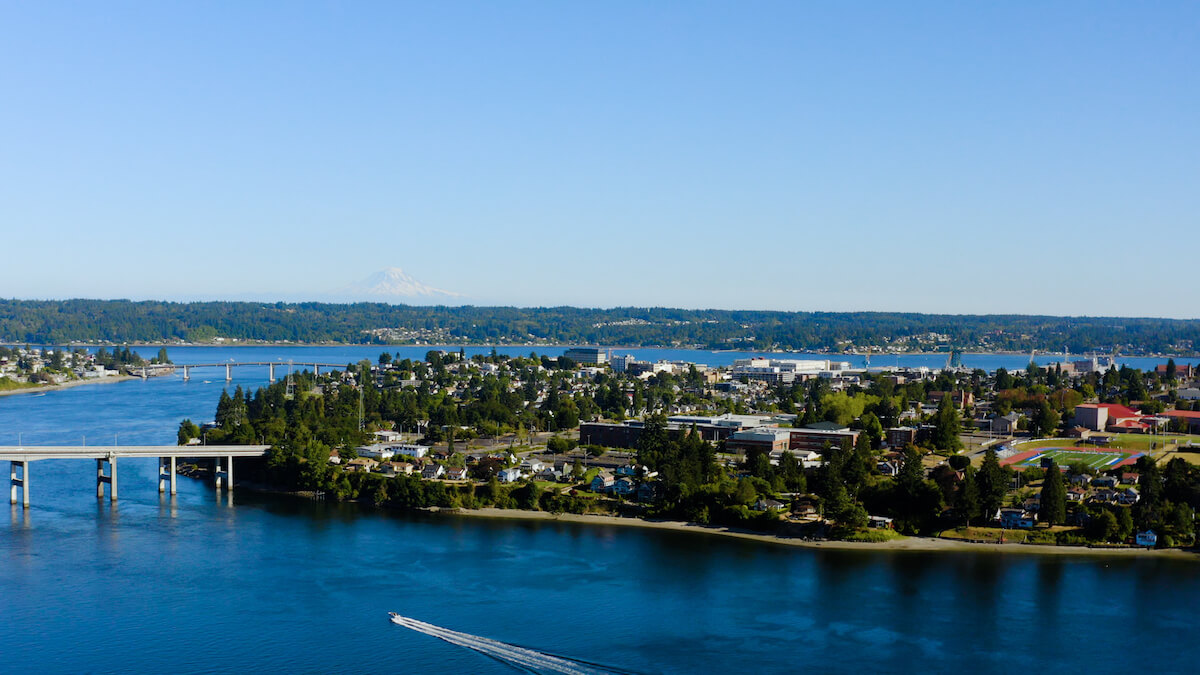 Surrounded by Puget Sound and the Olympic Mountains, Silverdale and Bremerton boast a range of businesses and entertainment as well as a strong military presence.
From Settlers to City
On a beautiful, cloudy day, the Silverdale waterfront gleams with a silver glow.  On shore, a bustling city center houses the most expansive shopping experience on the Kitsap Peninsula. There are local favorites like Purpose Boutique, Lisa Stirrett Glass Art Studio, and Silverdale Antiques. And, you can find everything you need by visiting Kitsap Mall, Trader Joe's, and Costco. Great stops for a bite to eat include popular places like Monica's Waterfront Bakery & Cafe, Jo:a Japanese Restaurant and Yacht Club Broiler.
While it's a strong center for economic development today, Silverdale actually started in a modest fashion. First formed in 1920 as an unincorporated port to serve the logging industry, Silverdale transitioned to a farming town. This gave way to Scandinavian immigrants who became the first permanent settlers in Silverdale. 
Aerial view, Port of Silverdale, 1952
Visitors at the old dock in Silverdale on Dyes Inlet, Kitsap County
In the decades that followed, the introduction to the 'Bremerton-to-Poulsbo Highway' changed Silverdale into Kitsap's busy commercial center. Over time, Silverdale began adding amenities like the popular Silverdale Waterfront Park to honor the proud Old Town port of its early days.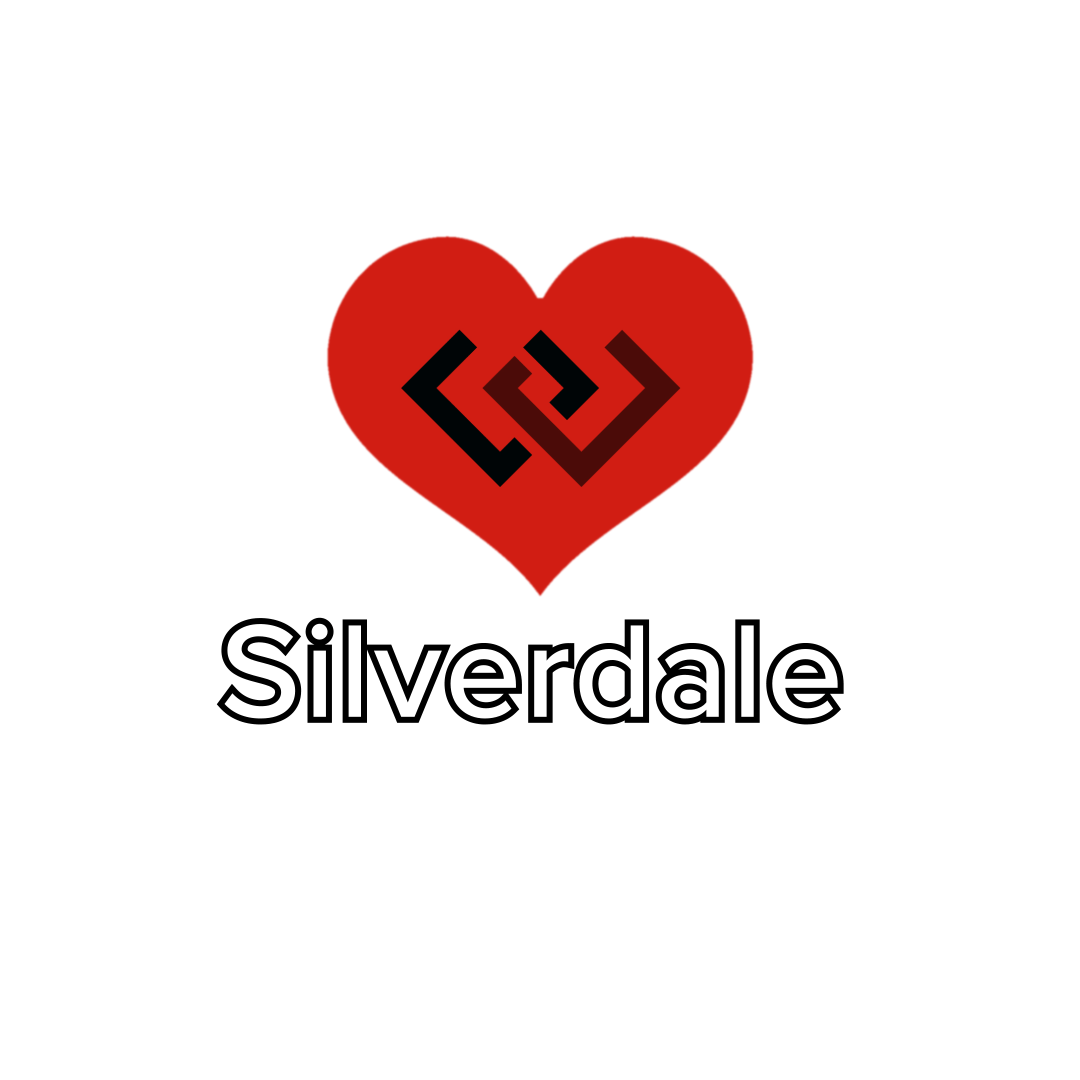 Bremerton's Beginnings
Founded by the vision of Real Estate businessman, William Bremer, and platted in 1891, Bremerton houses the largest Naval Shipyard on the West Coast. The Puget Sound Naval Shipyard survived both World Wars and was even expanded during the Great Depression.
Points of Pride
Today, Bremerton is the largest city in Kitsap County. It has a population of over 41,000.  By ferry, Bremerton residents reach Seattle within an hour to enjoy the larger city life across Puget Sound. While the military defined early Bremerton and still shapes it today, business development paved the way, specifically within the arts. The now-famous Admiral Theatre has housed some of the greatest names in music and entertainment. It sets the stage for an Art Deco-inspired downtown, complete with art galleries and Historic Roxy Theatre.  
And, fun fact: music legend Quincy Jones grew up in Bremerton. The city dedicated an entire square downtown to honor his legacy as the most famous hometown artist. Hysterically, Quincy recalled his Bremerton youth on The Late Show with Stephen Colbert, saying, "What happened was … we wanted to be baby gangsters and like, rule Bremerton."
Bremerton also offers fabulous eateries like La Fermata, voted this year's Best Romantic Dinner in Central Kitsap and Bremerton, and Silver City Brewery, bottling wonderful craft ales alongside gourmet pub food. Axe & Arrow Gastropub offers delicious options as well, and Chef Tabura was the winner of Food Network's "The Great Food Truck Race" in 2013.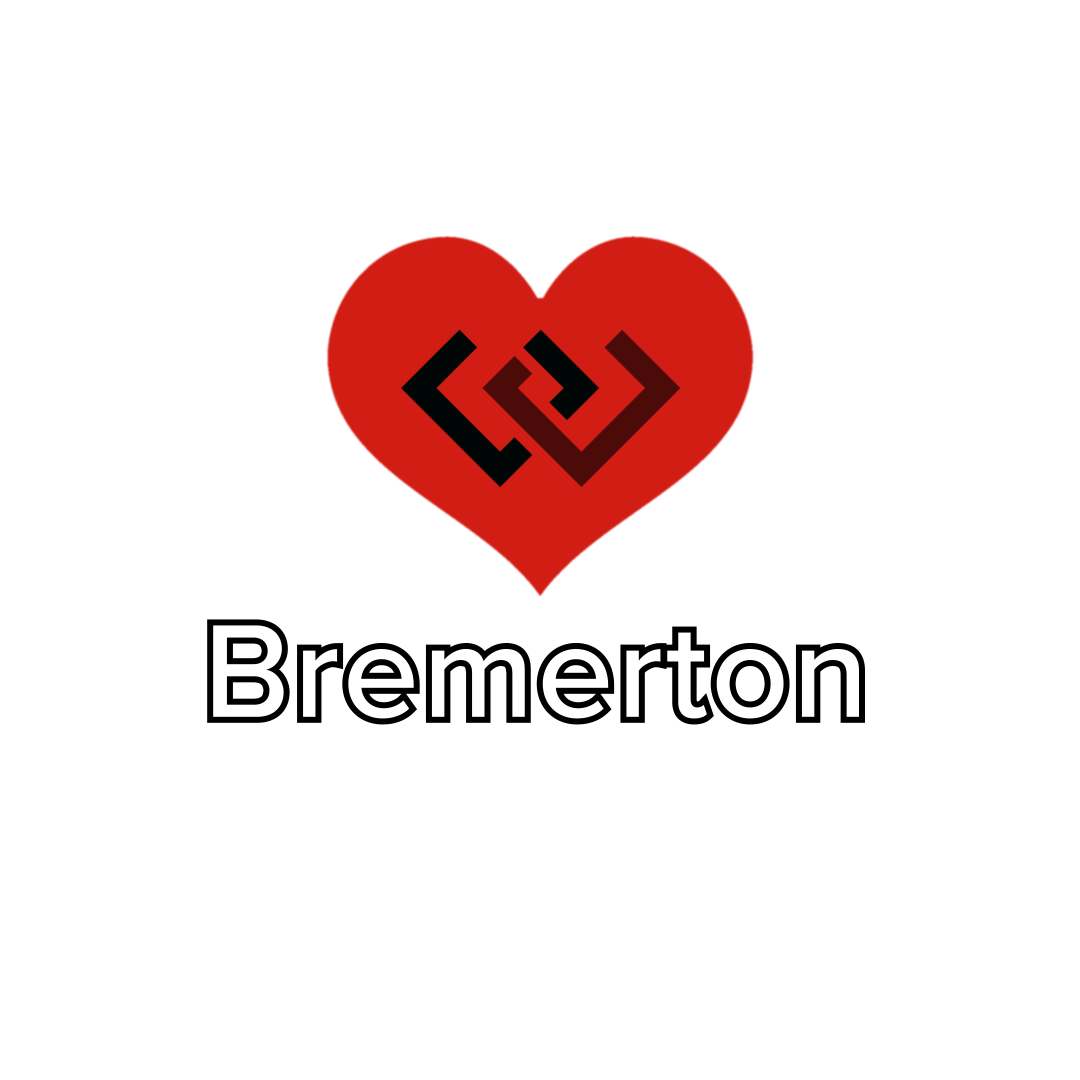 Wonderful Events and Outdoor Escapes
Silverdale and Bremerton are popular shopping and dining destinations with distinct features. Additionally, they offer a strong sense of community through many local organizations and events. Fun annual festivals include the Blackberry Festival, Armed Forces Day Parade, Wayzgoose Arts Festival, and Whaling Days.
These charming cities harbor many larger city conveniences yet they are surrounded by nature. Nestled beside the epic Olympic Mountains, Silverdale and Bremerton offer a variety of nature trails and parks to get away from it all. Here's a starter pack of places to explore: Illahee State Park, Manchester State Park, Newberry Hill Heritage Park, Wildcat Lake County Park, and Old Mill Park. From functional to robust, Silverdale and Bremerton have blossomed into truly unique cities with offerings for all.
Lions Park by Leo Phillips
Silverdale Sunset by Leo Phillips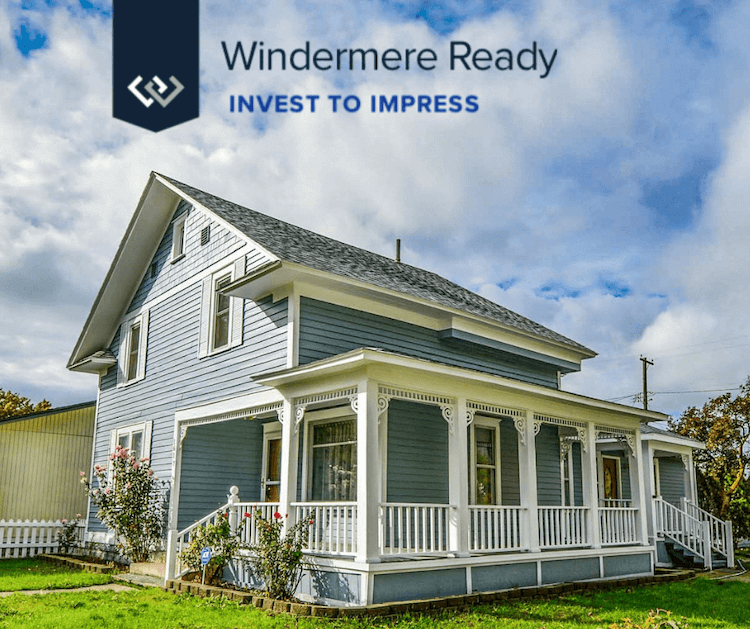 When it comes to selling your home, first impressions are everything. We believe this so strongly that we created the Windermere Ready program. With concierge-level service, our program prepares your home for the market with guidance from a local expert as well as financial assistance, if needed.
Sell For More in Less Time
On average, sellers who make necessary repairs and upgrades before selling generally sell their home for more and in less time. Of course, every home is unique, but preparation is often the key to success.
Our Windermere Ready program provides:
One-on-one consultation
A personalized plan
High impact updates
Professional staging
We all know that buyers prefer stylish, turnkey homes. But it can be challenging to know which repairs and upgrades will get the biggest return. That's why we offer an individualized approach. One of our local real estate experts will work with you to determine what needs to be done with your timeline and needs in mind.
After they identify your top home improvement priorities, they will develop a plan of action. They will connect you with preferred local service providers, assist with a work schedule, and make any necessary arrangements. Working with a highly skilled professional also means your home will be correctly priced so you'll avoid the dangers of an overpriced home.
Update Your Home to Make an Impact
Sometimes the smallest updates can make the biggest impact on a buyer. A home with real curb appeal, a fresh coat of paint, and a sparkling clean interior can exude warmth and charm. Even something small yet noticeable like a stylish light fixture or updated kitchen cabinet hardware can really enhance a house and make it feel like a home.
Here are some of the items that we focus on:
Interior and Exterior Painting
Window Washing
Landscaping
Carpet Cleaning/Replacement
Floor Repair/Refinishing
Fixture Repair or Replacement
Cosmetic Updates
Decluttering
Professional Deep Cleaning
Stage Your Home to Create the Best Experience
In addition to making needed repairs and updates, we highly recommend staging your home. With the help of professional stagers, you can boost your bottom line. A staged home allows buyers to easily see themselves living there. Our expert stagers know how to use light, color, texture, and space to effectively highlight the best features of each room. According to Forbes, staged homes sell 87% faster and for 17% more than non-staged homes.
We're Invested in Your Success, Literally
If needed, we can offer up to $50,000 to assist with expenses incurred, and there's no upfront cost to you. The loan term is six months and no monthly payments are due during that time. The loan is paid off in one lump sum when the collateral property is sold. If you'd like more information about our Windermere Ready Loan, please contact us today.