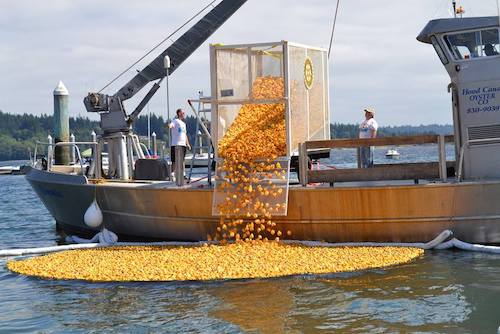 Every summer, a wave of rubber ducks make their way across Dyes Inlet to raise tens of thousands of dollars. Known as the Silverdale Rotary Duck Race, hundreds of volunteers dedicate their time to plan and prepare this fun, one-of-a-kind fundraiser. The rules are simple. Community members who "buy" a duck will be entered into a competition to win a prize. During Whaling Days, the rubber ducks are all released and race to the finish line. Whoever's duck reaches the finish line the soonest will win one of many prizes. Most recently, the Grand Prize of the 2019 Rotary Duck Race was a Nissan truck or $16,000 cash. This race has raised over $1.6 million, which goes directly back to the community through a variety of programs and initiatives.
Silverdale Rotary Club's Impact Here and Abroad
The Silverdale Rotary Club works diligently year-round, recruiting volunteers and planning dozens of fundraisers and events to help the community. "The Silverdale Rotary Club provides grants to nonprofits across Kitsap," says Steven Boe, Rotary Silverdale Chapter President and Windermere Real Estate Agent. Some of these include Backpacks for Kids, CK Food Bank, and The Coffee Oasis. They also support homeless and environmental programs and provide dictionaries for elementary school kids. "We provide scholarships for graduating high school students, military service members of the quarter, and many more," Steven explains.
"It is really fun to volunteer for events like the Duck Race and Turkey Trot which help fundraise to provide community grants and services. Rotary service clubs and partners even offer support for different phases of disaster relief which people may not be aware of," says Julie Wurden Jablonski, Silverdale Rotary member and Windermere Broker.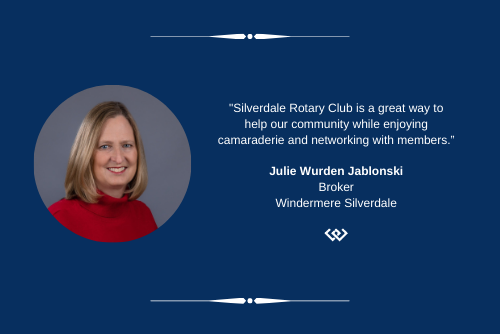 In addition to their work in our community, Silverdale Rotary Club also supports global Rotary projects since it's an international organization. In fact, there are 35,000 clubs around the world. A couple of global Rotary projects that Silverdale Rotary has supported include the eradication of Polio #EndPolioNow, and microloans for women in undeveloped countries.
Upcoming Projects and Fundraisers
Unfortunately, the Silverdale Rotary Club had to cancel last summer's Duck Race due to COVID-19. However, cash sponsors had the opportunity to pick their favorite nonprofit to receive cash grants directly. The organizations picked were The Coffee Oasis, Central Kitsap Medic One Foundation (CKM1F), and Bremerton Backpack Brigade. 
The Silverdale Rotary Club has a lot in store for 2021, including welcoming a new chapter president, Jennifer Strong. They're excited about the return of the annual Silverdale Rotary Duck Race, and a food bagging project that supports children and their families. 
"Volunteers will be bagging food and supplies the week before spring break," Steven says. "It usually supports kids of all ages, as well as their families. During the break, the school typically doesn't supply meals. For some, these bags may be the only food they eat. We utilize the school to help distribute the bags."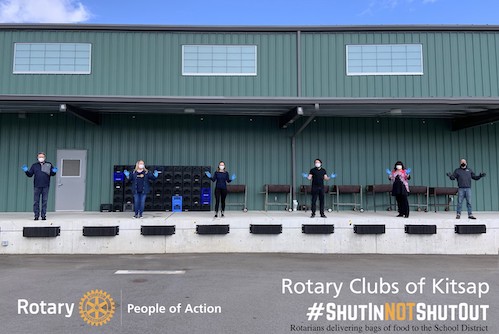 How You Can Get Involved
The Silverdale Rotary Club welcomes community support and there are many ways that you can get involved. In addition to participating in food bagging projects and buying a rubber duck for the Duck Race, you can become a member or donate! 100% of all donations go directly to help those in need. Getting involved, even in some small way, will undoubtedly help you feel more connected to our wonderful community.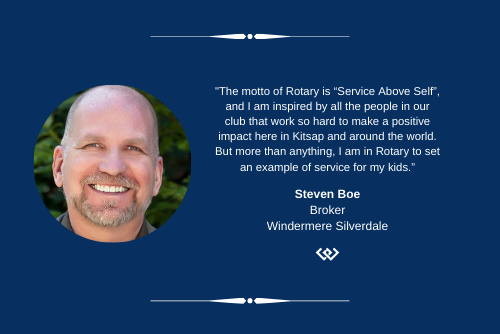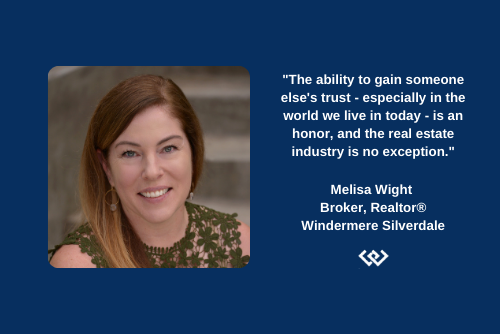 A native of the Pacific Northwest, Melisa Wight is new to our Windermere Silverdale office and we're excited to feature her. Melisa's background and friendly, helpful personality make her a great choice for buyers and sellers. Discover more about her below from our Q&A session.
What drew you to real estate?
I've been around real estate since I was a child. My mom was a realtor and my dad was a general contractor, and I am very proud to walk in the footsteps of that power team. My husband is also a general contractor/real estate investor and we work closely together, restoring houses throughout the area we call home.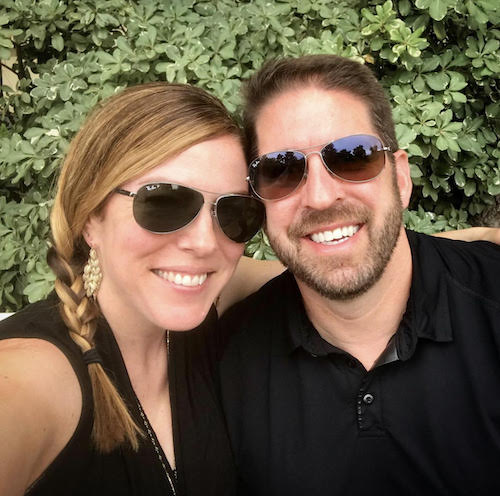 What unique professional experiences do you possess that enhance your abilities as a realtor?
The good thing about a career change in your mid-40's is that you bring a lot of life experience with you. Prior to real estate, I spent over 20 years as a Creative Director for a luxury travel company. I know marketing and I know people, and it has been really fun to bring those skill sets to the table.
What personality traits do you think are important in this profession?
My mom has always teased that everyone in the world is my friend, I just haven't met them all yet. I have learned quickly that this business is all about relationships and how we treat each other, and I am truly passionate about making everyone I work with feel good about their experience. The ability to gain someone else's trust – especially in the world we live in today – is an honor, and the real estate industry is no exception. I just want to do right by people and help make their dreams a reality.
Which areas do you serve?
I live in Poulsbo and focus primarily on this area, Bremerton, and Silverdale. That being said, I have also been known to jump the pond to Seattle or cruise along the coast to find the perfect waterfront home. I'll go where my clients need me: they're always my priority.
How long have you lived here?
I was born and raised in Port Angeles and am a very proud PNW native. I enjoy the quiet pace of the Kitsap Peninsula, and I absolutely LOVE being able to live out the 'Cheers' theme song…where everyone knows your name! There's a true sense of community here, and I think we do our best to look out for each other.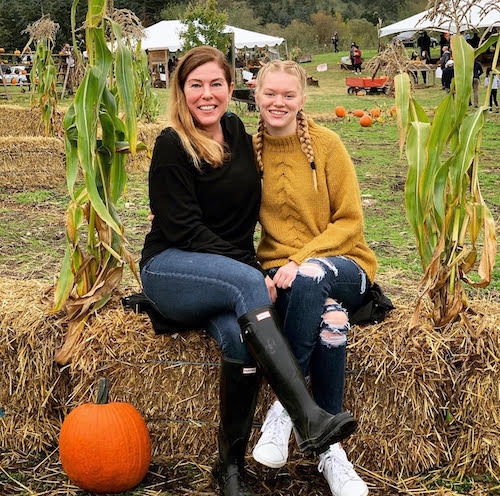 How are you involved in the community?
I have always believed in the importance of giving back to your community. Since I moved here 10 years ago, I have been volunteering in this area: from being the Art Docent when my daughter was in elementary school on Bainbridge, to managing the creative for the Bainbridge Schools Foundation's annual auction, to most recently becoming a proud member of the Crossroads Rotary Club here in Poulsbo. I am grateful for the opportunities I've been given in this community. Giving my time is the least I can do in return.
What made you decide to work with Windermere?
The decision was easy. I wanted to align with the best. My mentor, Carol Sue Barker, was already our realtor for our investment properties and I knew if I could learn from her I'd be winning. We also have the most gracious and available Designated Broker in all of Kitsap County, Nancy Mackleit. These two dynamos have taught me more in the last few months than I could ever have imagined. Windermere is consistently the top-producing real estate firm in Kitsap County for a reason. And at this age, I really don't have time to mess around.
We're so happy to have Melisa! If you'd like to connect with her, you can do so through her website and on Facebook.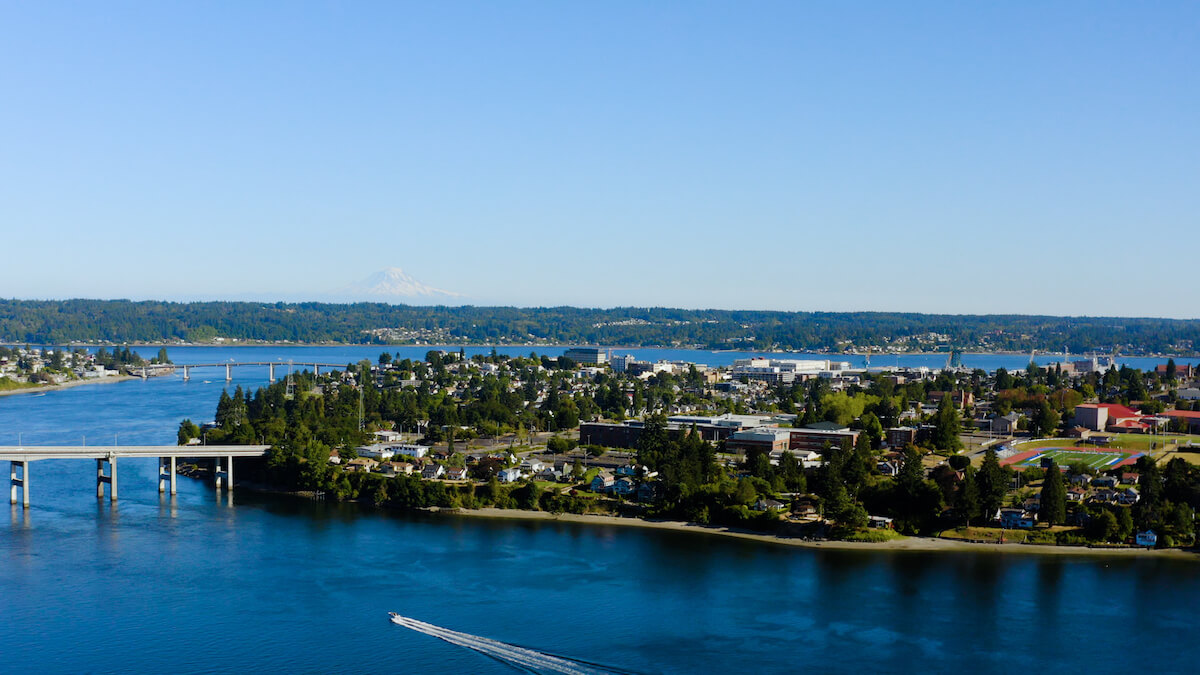 Surrounded by Puget Sound and the Olympic Mountains, Silverdale and Bremerton boast a range of businesses and entertainment as well as a strong military presence.
From Settlers to City
On a beautiful, cloudy day, the Silverdale waterfront gleams with a silver glow.  On shore, a bustling city center houses the most expansive shopping experience on the Kitsap Peninsula. There are local favorites like Purpose Boutique, Lisa Stirrett Glass Art Studio, and Silverdale Antiques. And, you can find everything you need by visiting Kitsap Mall, Trader Joe's, and Costco. Great stops for a bite to eat include popular places like Monica's Waterfront Bakery & Cafe, Jo:a Japanese Restaurant and Yacht Club Broiler.
While it's a strong center for economic development today, Silverdale actually started in a modest fashion. First formed in 1920 as an unincorporated port to serve the logging industry, Silverdale transitioned to a farming town. This gave way to Scandinavian immigrants who became the first permanent settlers in Silverdale. 
Aerial view, Port of Silverdale, 1952
Visitors at the old dock in Silverdale on Dyes Inlet, Kitsap County
In the decades that followed, the introduction to the 'Bremerton-to-Poulsbo Highway' changed Silverdale into Kitsap's busy commercial center. Over time, Silverdale began adding amenities like the popular Silverdale Waterfront Park to honor the proud Old Town port of its early days.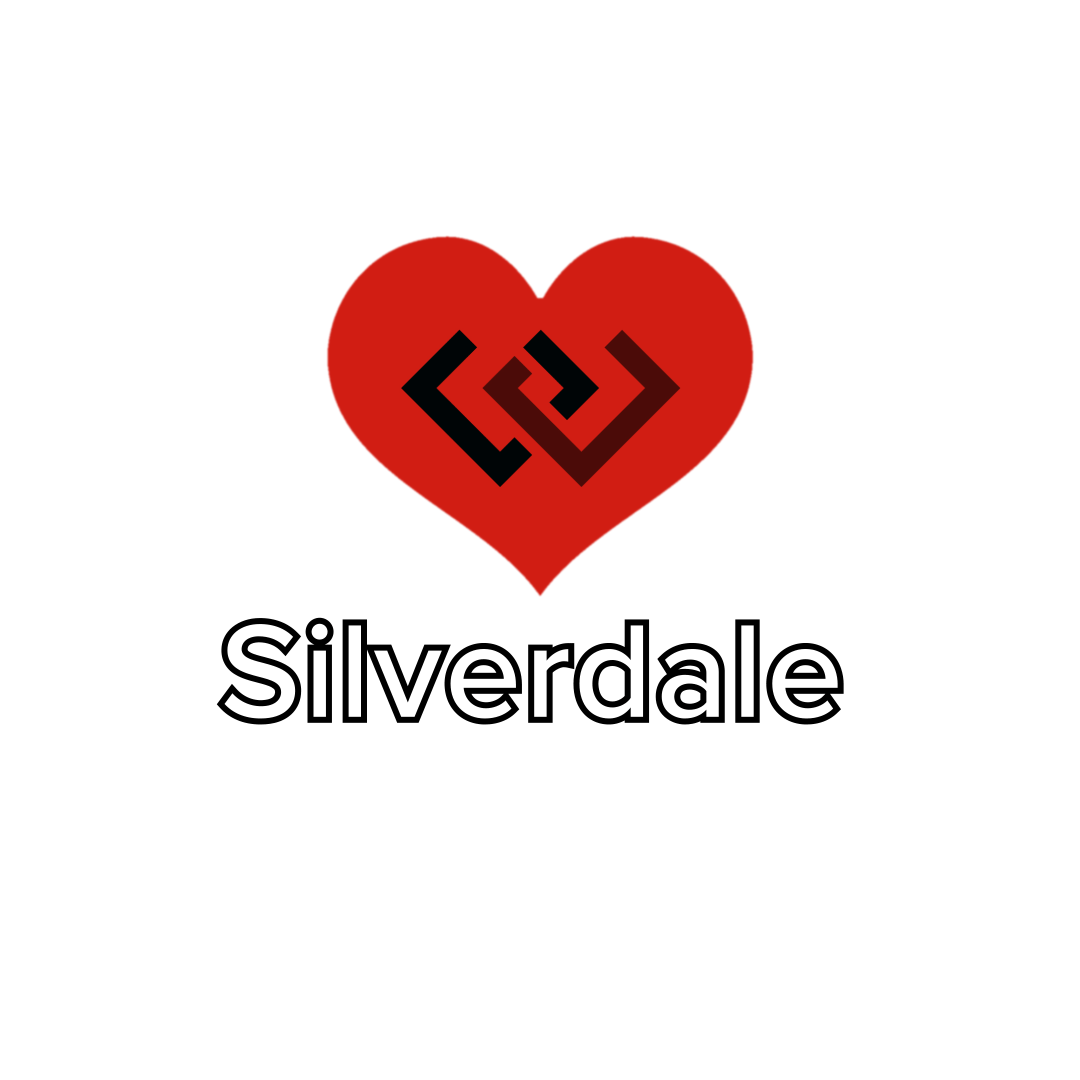 Bremerton's Beginnings
Founded by the vision of Real Estate businessman, William Bremer, and platted in 1891, Bremerton houses the largest Naval Shipyard on the West Coast. The Puget Sound Naval Shipyard survived both World Wars and was even expanded during the Great Depression.
Points of Pride
Today, Bremerton is the largest city in Kitsap County. It has a population of over 41,000.  By ferry, Bremerton residents reach Seattle within an hour to enjoy the larger city life across Puget Sound. While the military defined early Bremerton and still shapes it today, business development paved the way, specifically within the arts. The now-famous Admiral Theatre has housed some of the greatest names in music and entertainment. It sets the stage for an Art Deco-inspired downtown, complete with art galleries and Historic Roxy Theatre.  
And, fun fact: music legend Quincy Jones grew up in Bremerton. The city dedicated an entire square downtown to honor his legacy as the most famous hometown artist. Hysterically, Quincy recalled his Bremerton youth on The Late Show with Stephen Colbert, saying, "What happened was … we wanted to be baby gangsters and like, rule Bremerton."
Bremerton also offers fabulous eateries like La Fermata, voted this year's Best Romantic Dinner in Central Kitsap and Bremerton, and Silver City Brewery, bottling wonderful craft ales alongside gourmet pub food. Axe & Arrow Gastropub offers delicious options as well, and Chef Tabura was the winner of Food Network's "The Great Food Truck Race" in 2013.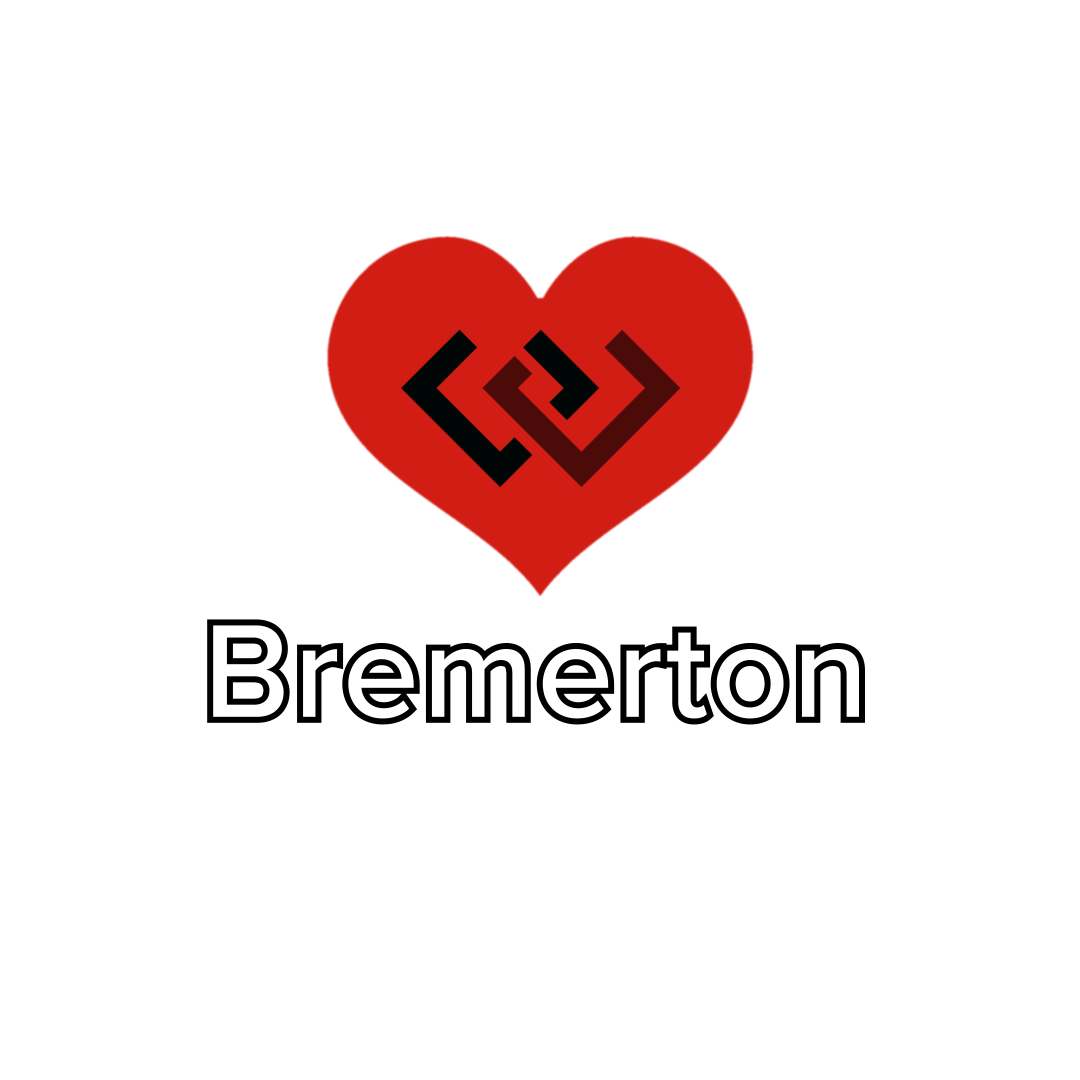 Wonderful Events and Outdoor Escapes
Silverdale and Bremerton are popular shopping and dining destinations with distinct features. Additionally, they offer a strong sense of community through many local organizations and events. Fun annual festivals include the Blackberry Festival, Armed Forces Day Parade, Wayzgoose Arts Festival, and Whaling Days.
These charming cities harbor many larger city conveniences yet they are surrounded by nature. Nestled beside the epic Olympic Mountains, Silverdale and Bremerton offer a variety of nature trails and parks to get away from it all. Here's a starter pack of places to explore: Illahee State Park, Manchester State Park, Newberry Hill Heritage Park, Wildcat Lake County Park, and Old Mill Park. From functional to robust, Silverdale and Bremerton have blossomed into truly unique cities with offerings for all.
Lions Park by Leo Phillips
Silverdale Sunset by Leo Phillips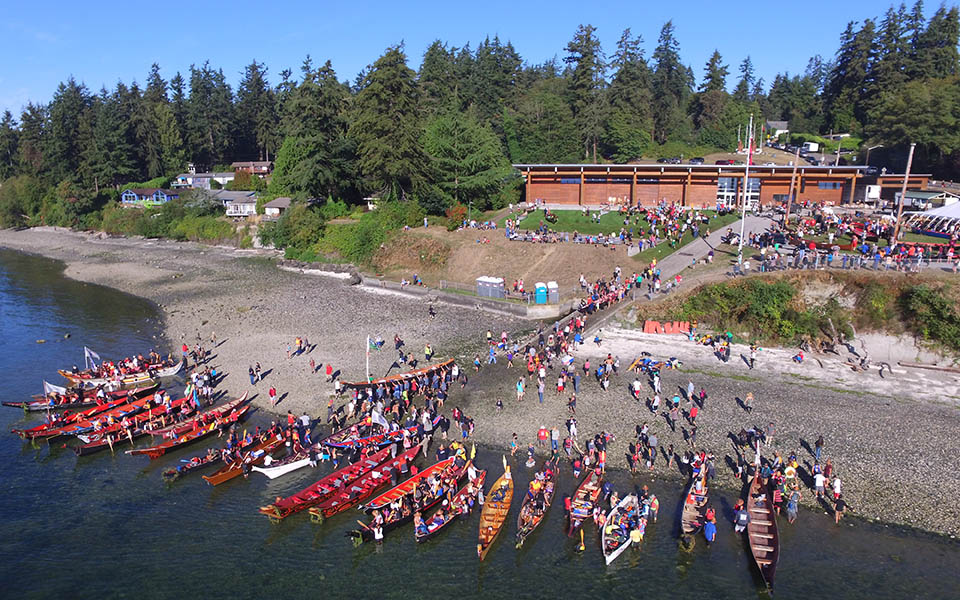 All media courtesy of the Suquamish Museum. 
Nothing embodies perseverance quite like the Suquamish Tribe. Thriving with tradition and culture, the Suquamish Tribe has lived in tandem with the land, now Kitsap County, for centuries. The Suquamish lived communally in permanent villages along the shore near rivers and streams of the Puget Sound during the winter. They had winter villages in places like Suquamish, Poulsbo, Silverdale, Port Madison, and Battle Point. During the other seasons, many left their residences in family canoes to travel to temporary camps at fishing, hunting, and gathering grounds. 
The Suquamish people's indigenous language is Lushootseed, a linguistic member of the Coast Salish language group spoken by first peoples throughout the Pacific Northwest. Due to federal assimilation policies, their language was almost lost. But they've fought hard to preserve it. They established a Traditional Learning Program that teaches Lushootseed to children and community members. 
Historical Attractions
Part of the Port Madison Indian Reservation, the Suquamish village has magnificent ocean and mountain views. Native and non-native residents live there. The waterfront is adorned by restaurants, local businesses, and cultural attractions. One of the most notable and must-visit places is Chief Seattle's Gravesite. This monument honors the legendary leader of the Suquamish Tribe. Chief Seattle was known for his ideas around ethics, spirituality, and environmentalism.
Learn more about Chief Seattle from Suquamish Elder Marilyn Wandrey who shares important historical details in the video below, courtesy of the Suquamish Museum. 
The House of Awakened Culture stands tall by the waterfront. The House and surrounding outdoor area hosts many events that teach and celebrate the Suquamish culture. Programs include basket weaving, Lushootseed language lessons, Youth Canoe Journey Trainings, and traditional Suquamish ceremonies. 
Old Man House Park is the site of the largest Suquamish winter village located on the shore of Agate Passage. The home of Chief Seattle and Chief Kitsap once stood there before the U.S. government destroyed it in 1870. 
Canoe in Suquamish/Agate Pass, circa 1930's. Photograph by Bertelson
Beach seiners on Agate Pass, Emmanuel Alfred, Justin Alfred of the Suquamish Tribe
Basketmaker Tennessee at her home on Bainbridge island
Race canoe built by Jack Adams: Seabreeze
Photographs courtesy of the Suquamish Museum
The Suquamish Tribe Today
In the face of European colonization, the Suquamish Tribe has persevered. Thanks to the selfless acts of Chief Seattle and Chief Kitsap working to protect their people, the Suquamish continue to rebuild their community and thrive. Through self-determination, the Suquamish spent decades building government relationships with federal, state, and local agencies. Much of the Tribe has fought to preserve hunting and fishing traditions for future Suquamish generations. 
Today, the Suquamish Tribe devotes resources and time to instilling Suquamish pride in the current generation. The Tribe's history and traditions are celebrated throughout the year and are shared through cultural and educational activities. Additionally, Chief Kitsap Academy (CKA) is one of the first tribal compact schools in Washington. Serving grades 6 – 12, CKA's vision is that "every graduate is a confident, courageous, thoughtful, and respectful member of our community". CKA also expects students to "pursue additional training and/or education and take on leadership roles in the Suquamish Tribe, the local area, and our global community". 
As their neighbors, we are proud to highlight the Suquamish Tribe's history, culture, and traditions, recognizing that they lived here long before us. Today, the beautiful Suquamish Museum and their Tribe's website provide a wealth of information to honor their heritage and educate locals and tourists alike.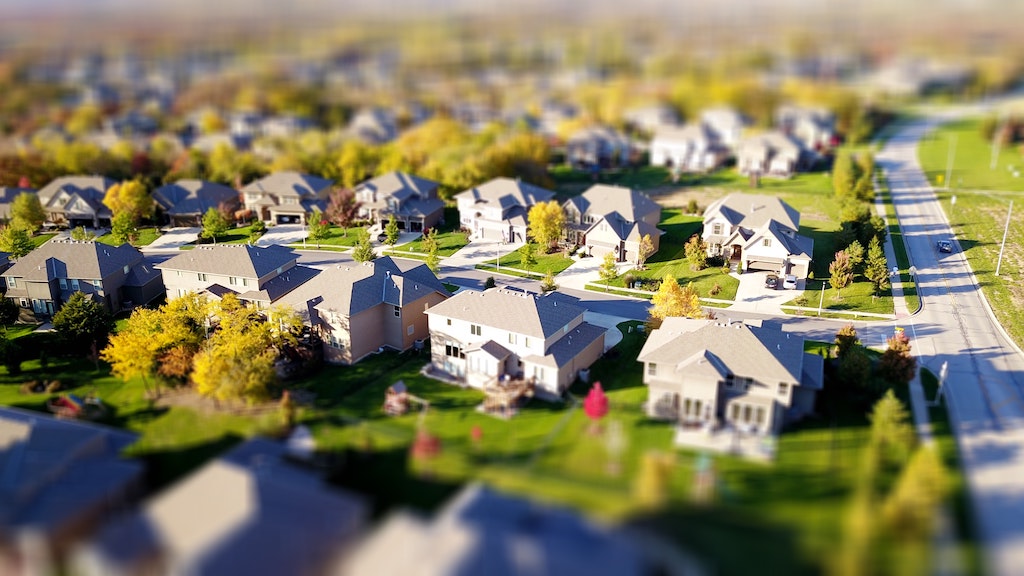 Central Kitsap's market had a very strong third quarter. We've compiled key stats below to provide a comprehensive review of our market, as well as insights and predictions from Windermere Real Estate's Chief Economist, Matthew Gardner.
Our Strong Seller's Market
It's a strong seller's market here in Central Kitsap. Inventory remains low while demand is high. In our third quarter, the median sale price was up 11.5% year-over-year at $379K. Buyers should be aware that multiple offer situations have become more common in our area.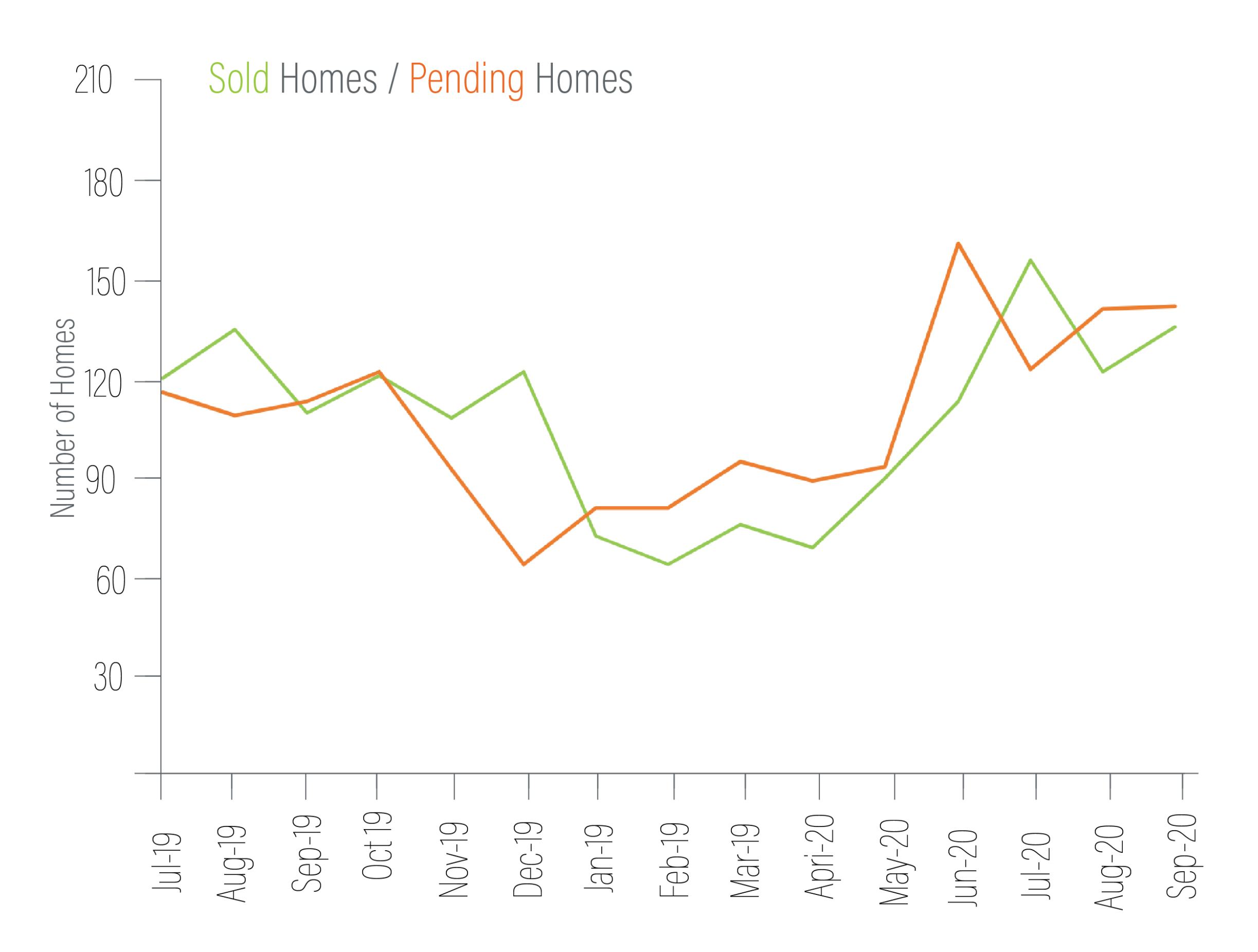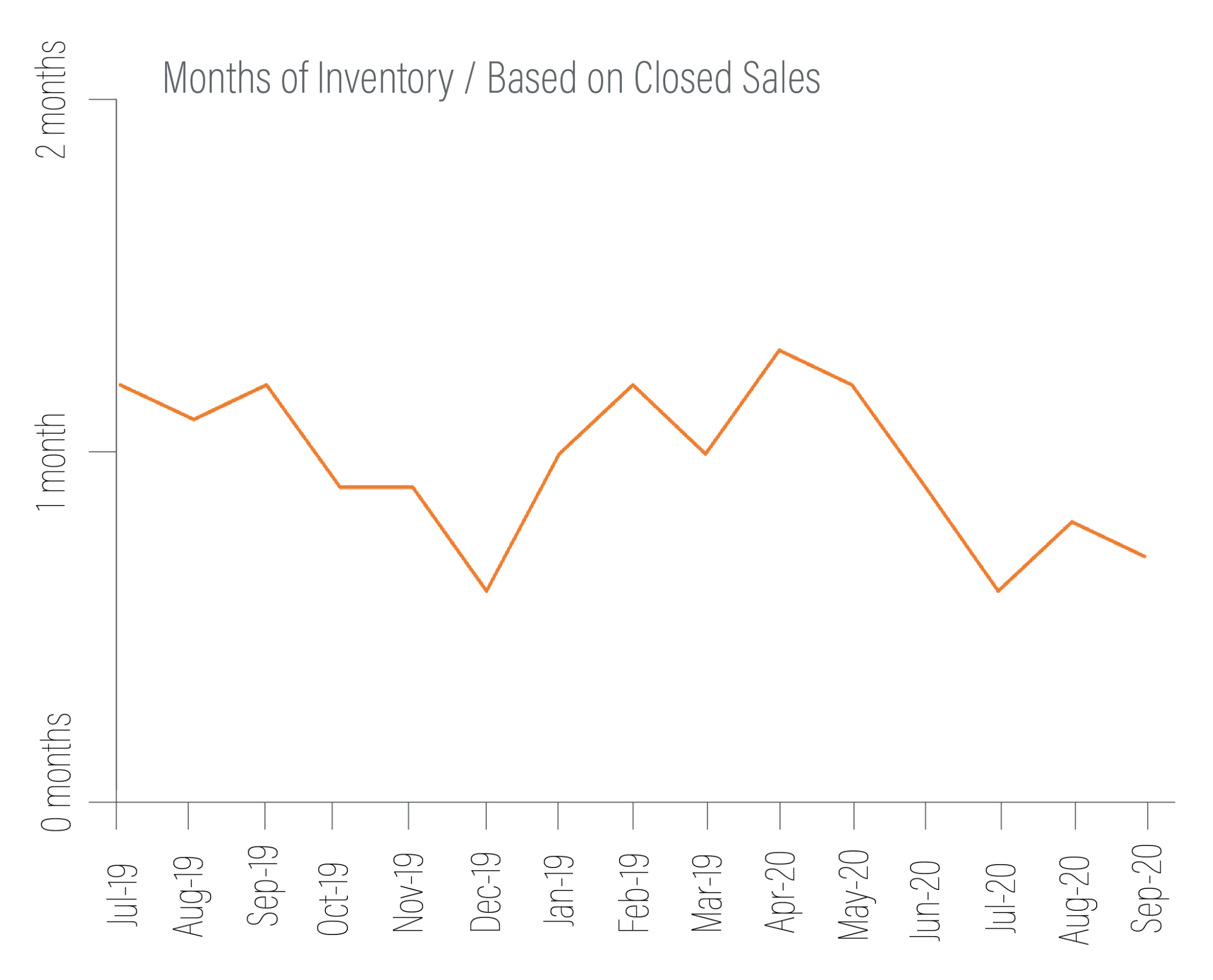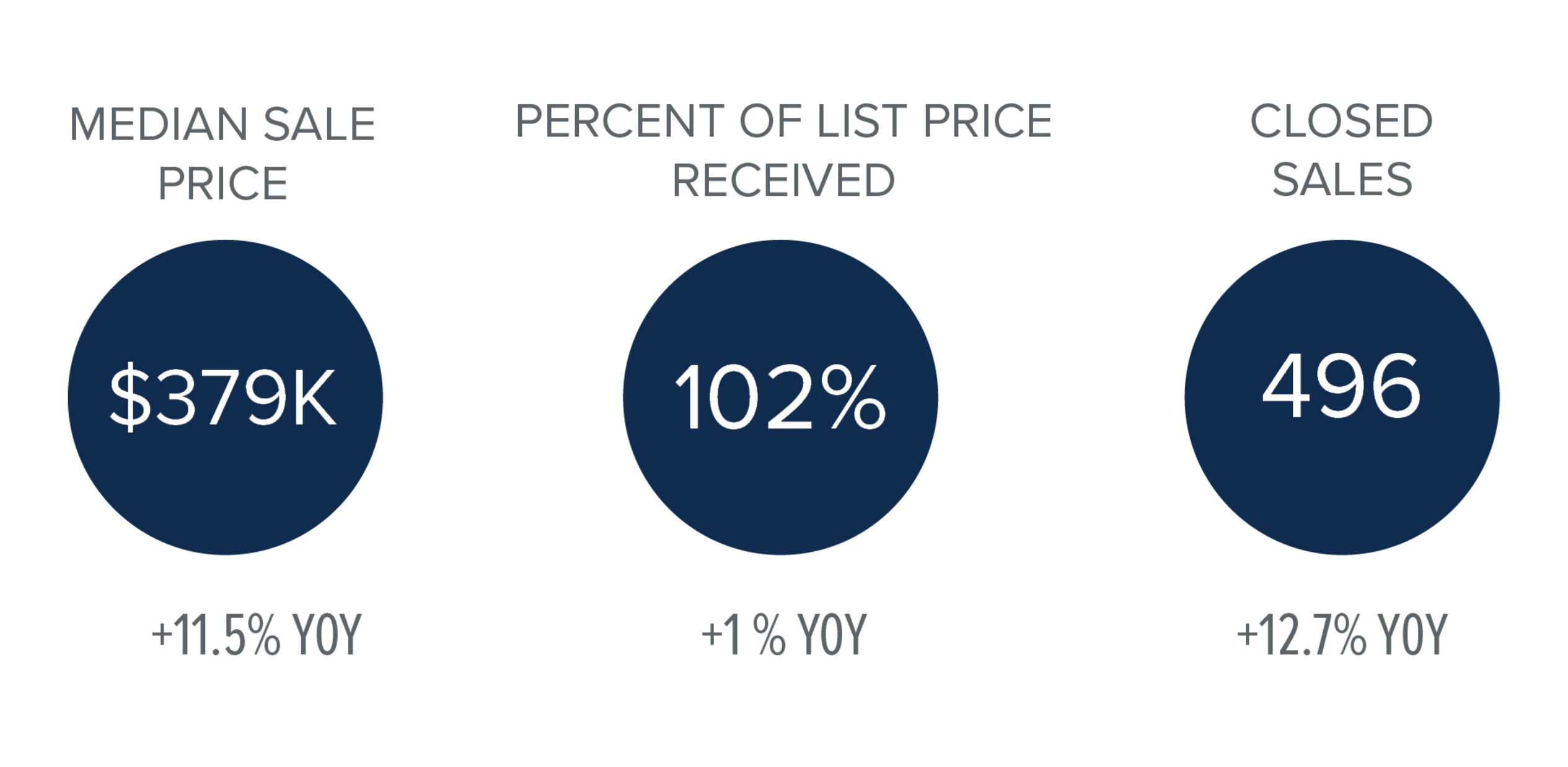 Market Predictions
Although mortgage rates remain historically low and demand is high, our Chief Economist, Matthew Gardner, has some concerns about how this may impact real estate down the road. "We may be heading towards a period where we see houses turn over at a far slower pace as we stay in our homes for longer than ever…this could be a problem as it leads to persistently low levels of inventory for sale, which itself could lead to prices continuing to rise at above-average rates and that would further hit affordability." As for mortgage rates, Gardner does not expect them to rise significantly any time soon. However, he says, "We should all be aware that there could be consequences to very low rates".
Western Washington Review
Let's zoom out a bit and look at our area. Below are highlights from The Western Washington Gardner Report provided by Windermere Real Estate's Chief Economist, Matthew Gardner.
WESTERN WASHINGTON HOME SALES
Total Sales: 11.6% increase from Q3/2019, and 45.9% higher than Q2/2020
Homes for Sale: 41.7% lower than Q3/2019, but up 1.6% from Q2/2020
Pending Sales: up 29% from Q2/2020
WESTERN WASHINGTON HOME PRICES
Average: $611,793 (up 17.1% from Q3/2019). Low mortgage rates and limited inventory are clearly pushing prices up.
Prices will continue to increase as long as mortgage rates and inventory levels stay low. If this continues to be the case, affordability issues will become more apparent in many markets.
DAYS ON MARKET, WESTERN WASHINGTON
Average: 36 days (an average of 4 fewer days than in Q2/2020 and 2 fewer days than in Q3/2019)
In Kitsap County, average days on market: 20
Conclusion
In Gardner's Western Washington Report, he states that, although we have a strong seller's market that is very buoyant, he's "starting to see affordability issues increase in many areas—not just in the central Puget Sound region—and this is concerning. Perhaps the winter will act to cool the market, but something is telling me we shouldn't count on it."