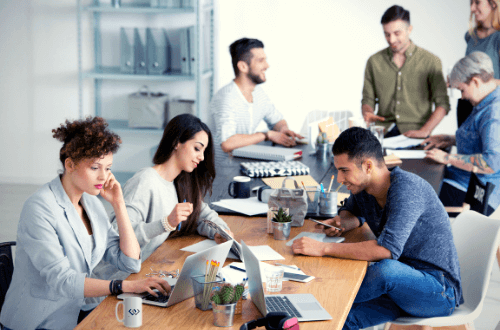 It has been said that remote work is the way of the future. Many people are ditching their long commutes or moving out of large cities because they're now able to work from almost anywhere. But your dream home may be tucked away where Wi-Fi isn't the best for video-conferencing. Or, you may need a workspace if you have little ones at home or occasional in-person meetings. Kitsap is lucky to be home to a number of great coworking spaces that fit a variety of needs. They are also great places to form new communities if you're new to the area or missing small talk with colleagues. Many coworking spaces also offer discounted (or free) trial days.
Private office spaces, community work desks, meeting rooms, mail service, and even rentable studio spaces are just a short drive from almost any location in Kitsap County. LinkedIn recently posted an article citing a survey in which 64% of employees from some of the largest companies said they would prefer to work remotely over receiving a $30K raise. That's quite the endorsement for remote work! Check out these great spaces to enhance your remote work life.
Bainbridge Island
OfficeXpats
Located on Bainbridge Island, OfficeXpats is a coworking space offering desks, meeting spaces, and events by the hour or by the day. There are four reservable spaces of various sizes, great for meetings or retreats, complete with catering options from nearby restaurants. They are the longest-standing coworking space in Kitsap, having been founded in 2011 with a lot of "permanent" entrepreneurs calling the space home.
Options from $10/day
Reservable Desks, No Private Offices
Bremerton
Bremerton Work Space
This space offers day passes, punch cards, and monthly passes. They have open workspaces, lounge spaces, as well as private office suites. They have a reservable conference room that seats up to 10 people, printing/scanning, a kitchen/galley, and onsite parking.
Options from $18/day
Private Offices Available
Located in downtown Bremerton, Spark Commons offers a variety of membership options from drop-in to full time. Memberships include conference room usage as well as beverages and snacks. Team discounts are available for those looking for space for more than one person at a time. Mail service and virtual options are also available for those looking for community or convenience without visiting the space often.
Options from $11/day
Private Office Waitlist
Vibe Coworks – The Spot
The smaller of two Vibe locations, The Spot is mainly a conference or meeting facility. It does not have coworking space but is perfect for collaborating, hosting a meeting, a small event, or a workshop. Right in the heart of downtown Bremerton, this space can accommodate up to 20 people.
Options from $85/day
Private Group Space
Poulsbo
The Creative Consortium is a unique workspace for creatives, conveniently located off the 305 in Poulsbo. They offer meeting rooms, workspaces, private offices, event space, a private theater, and a fully equipped production studio. Day passes or full-time rentals are available. It's the perfect place to get creative ideas flowing, especially for those who don't have all of their own equipment.
Options from $11 per day
Private Offices Available
Vibe's Poulsbo site offers drop-in, part-time, and full-time memberships. Their space has coworking and private office spaces, multiple conference rooms, booths for phone/video calls, coffee/tea, and the option for a reservable desk spot. Every month, they offer a "Free First Friday" for people to come to try out the space for free, and they also host art shows and community events.
Options from $11/day
Private Office Waitlist
Silverdale
Have-a-Space is located in Silverdale near the Kitsap Mall and offers a variety of options including punch cards, which are good for 8:00 AM – 5:00 PM access. Full membership grants you 24/7 access as well as conference room usage. Community workspace, private and semi-private offices are available, as well as conference/meeting space that can accommodate 10 – 30 people. Coffee/tea service is provided as well as HDMI/streaming capabilities.
Options from $12/day
Private Offices Available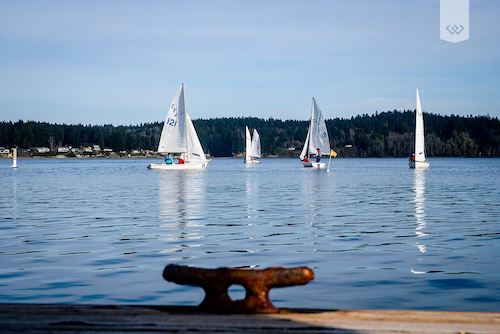 When visiting the Port of Silverdale, you can often watch local youth learning to sail, thanks to the Kitsap Sailing Foundation. This non-profit's mission is to teach the art of sailing and rowing to Kitsap's youth while building leadership, teamwork, and decision-making skills.
"Learning to sail opens up a whole new world. It is a world of almost limitless opportunities for fun, adventure, exploration, and self-achievement," says Windermere Broker Mark Danielsen, whose kids developed a deep love for sailing. In fact, his son and his niece took lessons and became youth sailing instructors. The foundation has impacted so many kids' lives, so we're shining a light on this wonderful organization.
History
In 2006, a group of volunteers formed the Kitsap Sailing and Rowing Foundation to support youth programs in Kitsap County. The foundation's volunteers assist in running programs, maintaining equipment, and coordinating boat acquisition. The Port of Silverdale and the Kitsap Sailing Foundation (KSF) partnered to continue the program. Clam Island Rowing became its own non-profit as interest in rowing grew. The Kitsap Sailing Foundation continues to provide training, mentorship, and summer camp programs while helping the port acquire new sailboats and equipment and expanding its existing curriculum.
Summer Sailing Camps for Kids and Teens
KSF offers a variety of programs, including summer sailing camps for kids and teens. No prior experience is needed. STEM education has also been incorporated into the sailing curriculum to provide an even more in-depth learning experience. The Youth and Teen Sailing Summer Camps provide an excellent opportunity for youth to learn about marine life in an unrestricted outdoor classroom. While building friendships and learning to work as a team, kids learn about topics like wind power and water quality. 
Summer camps are daily and last for one week. They will be offered this summer starting June 21, 2021 and ending August 6, 2021. Youth camps are from 9:30 AM – 12:30 PM while teen camps are from 1:00 PM – 4:00 PM. Five-day camps are $150 per session, and four-day camps are $120 per session. 
Impacting Youth in Many Ways
Getting kids and teens involved in outdoor activities can help them in so many ways. They learn to appreciate nature, stay physically active, and participate in experiential learning activities. "One of the things we have learned from the Covid-19 lockdown is how important it is for our youth to be engaging with others and staying active. We are very pleased to be able to offer sailing as an outlet for the youth to be outside, off their screens, and engaging with others," says John Bouck, President of the Kitsap Sailing Foundation.
"The Kitsap Sailing Foundation high school sailing team program has also been important to the Bremerton Yacht Club," explains Mark Danielsen. "High school sailors from Silverdale who develop their skills and become certified instructors often teach summer sailing camps at Bremerton Yacht Club as well as the Port of Silverdale."
These programs can offer long-term benefits as well, sometimes even impacting students' educational and career trajectories. "My daughter joined the Central Kitsap Sailing Team. She developed new friendships, enjoyed racing with her team throughout the PNW, and became a U.S. Sailing certified instructor," says Julie Wurden Jablonski, Windermere Broker, and Kitsap Sailing Foundation Treasurer/Board Director. Julie's daughter has "taught youth camps at the Port of Silverdale and volunteers to help coach the team. Many sailors go on to race in collegiate programs, and some have gone on to sailing and recreation careers."
Support through Kitsap Great Give or Get Involved 
If you'd like to support KSF, it is the perfect time to do so since Kitsap Great Give is going on now through April 20, 2021. Kitsap Great Give celebrates our community's spirit of generosity, supporting our local nonprofits, like the Kitsap Sailing Foundation. Sponsors boost local donations so your donation could even be doubled. Donate to the Kitsap Sailing Foundation before April 20 to make an even bigger impact.
If you'd like to support the foundation at a different time, you can make a donation on their website. Additionally, businesses can become a sponsor and have their name on the side of a sailboat. For more information, email info@kitsapsailing.org or call (360) 447-8520.
Also, the foundation welcomes community involvement. They seek certified sailing instructors for coaching, boat repair skills, and fundraising event assistance. They are also open to new community members joining their board of directors.
For more information on this year's events, follow their Facebook page.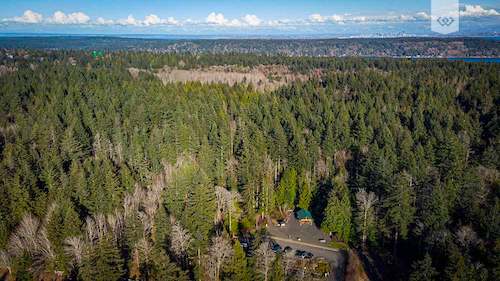 In the middle of the most densely populated area of Kitsap County lies the Illahee Forest Preserve. With over 500 acres, it is a wonderful place to enjoy our area's natural beauty. Inside this quiet forest oasis, you'll see Douglas Fir, Red Alder, Maple, and Western Red Cedars providing homes to wildlife, including 55 bird species.
Native Americans first called the forest "Illahee" meaning earth or ground. They saw the area as a place to rest and many others have for decades. However, this park was hard-won by active community members, and it has become a local gem, thanks in large part to the East Bremerton Rotary Club. 
Collective Action 
For decades, real estate developers and timber companies targeted Illahee for its valuable land and natural resources. In the 1930s, much of the original forest was clear cut except a 275-year-old Douglas Fir and Western White Pine. Over the years, Illahee was proposed for sale three different times for housing development (1978, 1987, and 1996). But each time the community rose in defense of the forest. In the face of opposition, Audrey Boyer, a long-time resident, led the charge to preserve the forest. Fortunately, Boyer's former student, Frank Chopp, was the Washington State Speaker of the House of Representatives at the time. 
With the combined action of Boyer, Chopp, Kitsap County, Kitsap County Parks, and many community members, Illahee became a state park. The Illahee Preserve Stewardship Committee, Illahee Forest Preserve non-profit, and Kitsap County Parks and Recreation managed the park. 
Community Collaboration
In 2004, Vic Ulsh, an East Bremerton Rotarian, wanted to help preserve Illahee. So, East Bremerton Rotary adopted Illahee Preserve as a project. They developed a plan and created multiple restoration projects. "It's really a grassroots effort to take care of it," says Ulsh. "When budgets get tight, parks get cut. They probably have half the staff that they had a few years ago. But volunteers have come together to manage it."
Another involved Rotarian is Joe Stevick, who is one of our Windermere Brokers. "Having such a mature forest in the middle of Bremerton always intrigued me. I was fortunate to be able to get involved through Vic," says Stevick. He grew up near the preserve, has always loved it, and has a background in environmental science.
Wonderful Changes
The East Bremerton Rotary Club has updated and improved it in many ways. Now when you visit, you'll see three signs at key entry points leading into the preserve. You'll also see a beautiful public picnic shelter. That's all thanks to our Rotarians. In 2017, they raised $35,000 for the shelter's construction.
Photos by Leo Phillips.
"The evolution of the area has been so interesting," says Stevick. "I remember when people used to rip around on dirt bikes or play paintball in the forest. With people like Vic and our East Bremerton Rotary Club helping, it really puts structure to it, and it's much more of a preserve – raw nature with less of a human impact apart from the trails. The work put into it has really transformed its image."
"It's taken constant efforts and very dedicated people to change the perception in the last ten years," says Vic Ulsh. Now, you'll often see families and joggers out on the trails. "The most common goer is a single woman with a dog," says Stevick. "That's a complete contrast to what it was, and it has changed the face of the space."
"What I love about the preserve is that it is an easy escape into a beautiful PNW forest that is right in your backyard. There are a variety of trails for everyone. When you walk into the preserve you leave the world behind, breathe in the beautiful surroundings, and experience the calming effect that only nature can give you," says Windermere Silverdale's Branch Manager Nancy Mackleit.
Continuous Engagement
Many groups now engage in community service projects at Illahee Preserve. In fact, one recurring project involves the Navy and another involves the Washington Youth Academy's cadets. These cadets are at-risk teenagers and community service is part of their curriculum. East Bremerton Rotarians serve as mentors and guides through work parties at the preserve, which also involve dedicated volunteers. 
If you'd like to get involved, you can subscribe to the East Bremerton Rotary's bulletin to receive information about upcoming events and projects. In addition to their work with the Illahee Preserve, these Rotarians work on many other local and international projects.
Through Rotary's consistent, hands-on involvement and financial support, as well as the efforts of countless volunteers, the Illahee Preserve is now a point of pride. We highly recommend that you explore this lush forest. When you do, it's easy to see why so many people have fought for it. There's so much to appreciate about this well-maintained, serene place.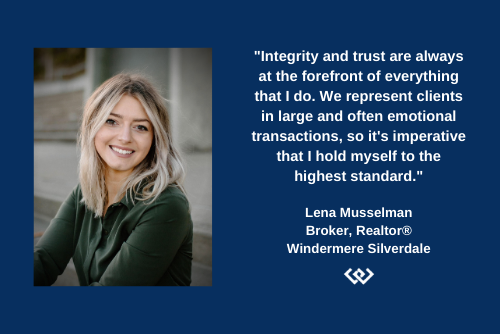 Raised right here in Kitsap County, Lena Musselman is a new Realtor who recently joined our Windermere Silverdale office. She's passionate about giving her clients her all. She's even started producing brief yet informative real estate videos on her Facebook page. Learn more about Lena in our Q&A below.
What drew you to real estate?
I have always had an entrepreneurial spirit and a love of helping people. I was first exposed to the world of real estate when I became a property manager at 20 years old. That's when I started learning about equity, investing, and the real estate market… and I was hooked! I am most passionate about building my brand in a way that makes real estate and real estate investing approachable for everyone.
What unique professional experiences do you possess that enhance your abilities as a realtor?
I have worked in property management, which has given me an intimate look at the needs of homeowners and investors. Also, I have almost a decade of experience in customer service, including restaurant management. I truly believe that my time in restaurants taught me more people skills, business skills, and compassion than any other job or schooling I've ever had. 
What personality traits do you think are important in this profession?
Integrity, ambition, and compassion. Integrity and trust are always at the forefront of everything that I do. We represent clients in large and often emotional transactions, so it's imperative that I hold myself to the highest standard. I am in the business of helping my clients find success. 
How long have you lived here?
Almost my whole life. I was born and raised in Western Washington! I grew up in Kingston and graduated from Kingston High School (Go Bucs!). After moving around to Oregon and North Carolina, I moved back to Kitsap and settled down in Silverdale.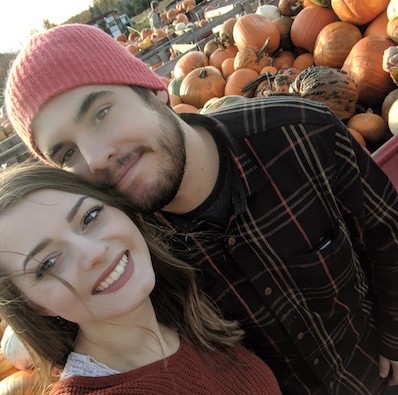 Which areas do you serve?
I primarily serve beautiful Kitsap County, WA! But, I'm happy to travel to surrounding areas depending on the needs of my client. I also have a referral program for all 50 states, so I can continue helping my clients no matter where they end up. 
What made you decide to work with Windermere?
The company culture is fantastic at Windermere. I learned very early on that Windermere's #1 priority was putting clients first and helping the community. 
How are you involved in the community?
I love our national parks! One of my favorite parts about living here is the beautiful scenery and the importance of nature in the community. I am a regular hiker and have contributed to funds that help keep our local parks clean and protected. I also love supporting local businesses, especially all of the fantastic local restaurants!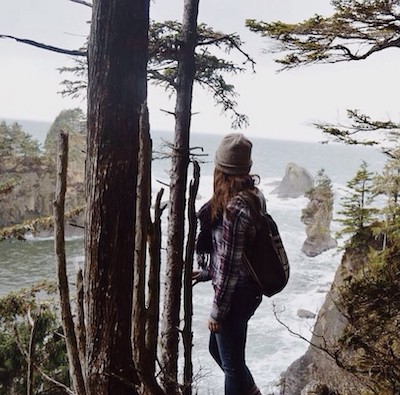 Welcome to Windermere, Lena! If you'd like to connect with Lena, you can do so through her website and on Facebook.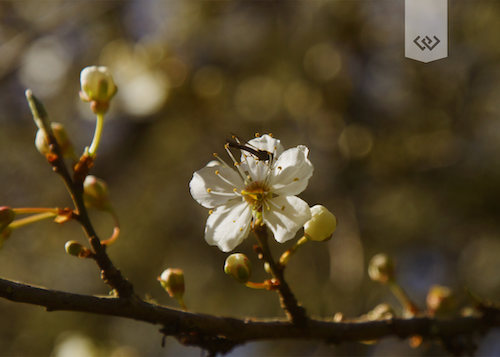 Spring is in the air! Here are some of our suggestions for the best places to see Washington's spring flowers in bloom. Thankfully, there are many wonderful places near us to celebrate and appreciate this beautiful time of year. Mark your calendars and then hop in the car to check these out!
A spectacular botanical garden, the Bloedel Reserve flourishes this time of year. Undoubtedly, the Japanese Garden is a must-see for anyone who wants to experience a tranquil retreat. It has also been named one of the top ten Japanese Gardens in the United States by the Journal of Japanese Gardening. Due to the COVID-19 pandemic, tickets are released in batches and must be reserved in advance. Tickets are $17 for adults, $10 for students (13-18), and $6 for youth (5-12) with college, military, and senior discounts. They also offer annual memberships.
This botanical gem was created by Dan Hinkley and his husband, architect Robert L. Jones. It spans almost 15 acres of fantastic flora from all over the world. After lying dormant for nearly six years, Heronswood was renewed through the S'Kallam Tribe. They earnestly restored the garden to its former beauty. This spring, they will be dedicating a stumpery, an artistic display of tree stumps, that recounts the history of the S'Klallam Tribe with the local timber industry. Heronswood opens on April 1st and tickets will be $10 for adults, $5 for children (7-17), and ages 6 and younger are free.
This wonderful botanical garden is consistently expanding to feature more and more flora for visitors to enjoy. With 15 distinct areas, you'll leave in awe of thousands of aesthetically arranged plants. On April 24th, they will be hosting "The Beauty of Spring " tour from 10:00 AM – 12:00 PM. Tickets are completely free, but register online.
In April, Skagit Valley will be hosting its annual Tulip Festival. Millions of tulips collectively create an extravagant display to celebrate spring. And, fun fact: more tulip and daffodil bulbs are produced there than in any other county in the United States. Designed as a driving tour, these flower fields can be seen anytime during April completely free of charge.
For a more in-depth experience, you can visit Tulip Town every day in April from 8:00 AM – 7:00 PM. Tickets are $10 for ages 12 and up, $5 for ages 6 – 11, and kids 5 and under are free. They offer an indoor/outdoor tulip garden, trolley rides (weather dependent), local goods, treats, and more.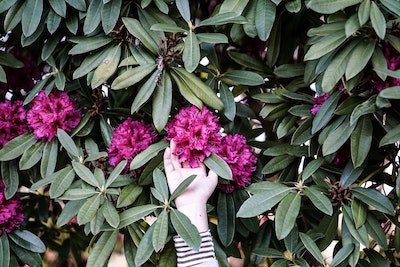 What better way to appreciate Washington's state flower than by visiting the Rhododendron Species Botanical Garden in Federal Way? Located between Seattle and Tacoma, this 22-acre woodland garden has the largest collection of Rhododendron species in the world. Get a glimpse of what they offer by watching this enticing video from 2019. Peak bloom time is mid-March through mid-May. They're open Tuesday – Sunday, 10:00 AM – 4:00 PM. Be sure to read their updated policies before visiting. General admission is $8, and it's $5 for seniors and students, free for military and children under 12.
Every year, this free festival is held at Seattle Center and it combines cultural traditions with various types of entertainment to celebrate Japanese culture. They typically have everything from martial arts demos to Japanese food, traditional music to origami contests. Due to the pandemic, the festival will be happening virtually again this year, from April 9 – 11.  Check out videos from last year's fun virtual event.
Although the University of Washington campus is typically a great place to stroll beneath the blossoming trees, UW is once again asking people to view their beautiful blossoming trees virtually this year due to COVID-19. If you're in the Seattle area, you can use the Seattle Department of Transportation's interactive map of trees to see where you can drive to enjoy blossoms. To search for cherry trees in a specific neighborhood, click the tab at the top that's titled "Explore Street Trees". Then scroll down on the left-hand side and click on "Trees By Type" to look for trees with the "Prunus" genus to view cherry or plum trees.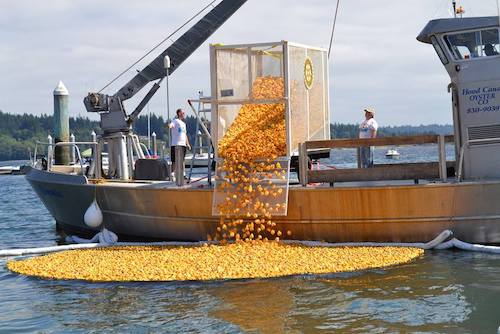 Every summer, a wave of rubber ducks make their way across Dyes Inlet to raise tens of thousands of dollars. Known as the Silverdale Rotary Duck Race, hundreds of volunteers dedicate their time to plan and prepare this fun, one-of-a-kind fundraiser. The rules are simple. Community members who "buy" a duck will be entered into a competition to win a prize. During Whaling Days, the rubber ducks are all released and race to the finish line. Whoever's duck reaches the finish line the soonest will win one of many prizes. Most recently, the Grand Prize of the 2019 Rotary Duck Race was a Nissan truck or $16,000 cash. This race has raised over $1.6 million, which goes directly back to the community through a variety of programs and initiatives.
Silverdale Rotary Club's Impact Here and Abroad
The Silverdale Rotary Club works diligently year-round, recruiting volunteers and planning dozens of fundraisers and events to help the community. "The Silverdale Rotary Club provides grants to nonprofits across Kitsap," says Steven Boe, Rotary Silverdale Chapter President and Windermere Real Estate Agent. Some of these include Backpacks for Kids, CK Food Bank, and The Coffee Oasis. They also support homeless and environmental programs and provide dictionaries for elementary school kids. "We provide scholarships for graduating high school students, military service members of the quarter, and many more," Steven explains.
"It is really fun to volunteer for events like the Duck Race and Turkey Trot which help fundraise to provide community grants and services. Rotary service clubs and partners even offer support for different phases of disaster relief which people may not be aware of," says Julie Wurden Jablonski, Silverdale Rotary member and Windermere Broker.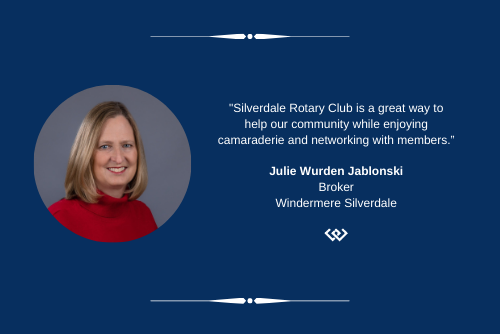 In addition to their work in our community, Silverdale Rotary Club also supports global Rotary projects since it's an international organization. In fact, there are 35,000 clubs around the world. A couple of global Rotary projects that Silverdale Rotary has supported include the eradication of Polio #EndPolioNow, and microloans for women in undeveloped countries.
Upcoming Projects and Fundraisers
Unfortunately, the Silverdale Rotary Club had to cancel last summer's Duck Race due to COVID-19. However, cash sponsors had the opportunity to pick their favorite nonprofit to receive cash grants directly. The organizations picked were The Coffee Oasis, Central Kitsap Medic One Foundation (CKM1F), and Bremerton Backpack Brigade. 
The Silverdale Rotary Club has a lot in store for 2021, including welcoming a new chapter president, Jennifer Strong. They're excited about the return of the annual Silverdale Rotary Duck Race, and a food bagging project that supports children and their families. 
"Volunteers will be bagging food and supplies the week before spring break," Steven says. "It usually supports kids of all ages, as well as their families. During the break, the school typically doesn't supply meals. For some, these bags may be the only food they eat. We utilize the school to help distribute the bags."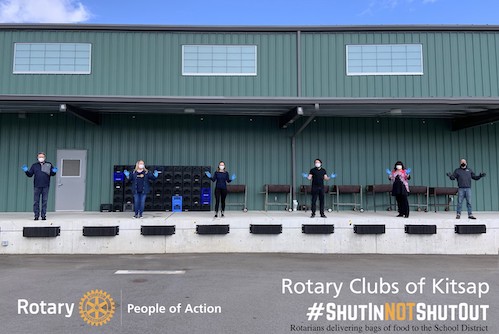 How You Can Get Involved
The Silverdale Rotary Club welcomes community support and there are many ways that you can get involved. In addition to participating in food bagging projects and buying a rubber duck for the Duck Race, you can become a member or donate! 100% of all donations go directly to help those in need. Getting involved, even in some small way, will undoubtedly help you feel more connected to our wonderful community.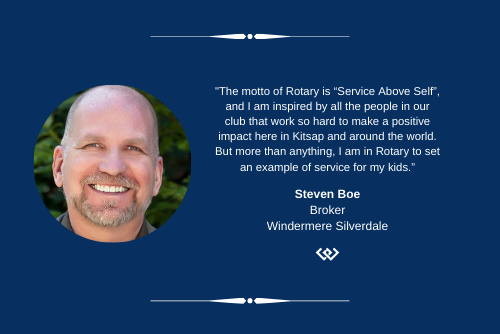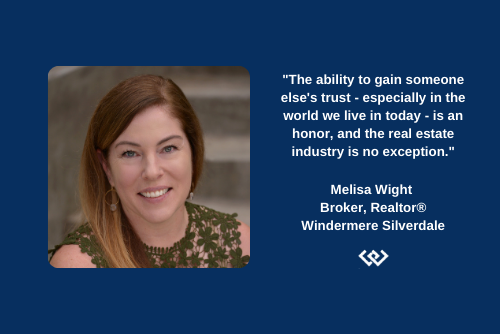 A native of the Pacific Northwest, Melisa Wight is new to our Windermere Silverdale office and we're excited to feature her. Melisa's background and friendly, helpful personality make her a great choice for buyers and sellers. Discover more about her below from our Q&A session.
What drew you to real estate?
I've been around real estate since I was a child. My mom was a realtor and my dad was a general contractor, and I am very proud to walk in the footsteps of that power team. My husband is also a general contractor/real estate investor and we work closely together, restoring houses throughout the area we call home.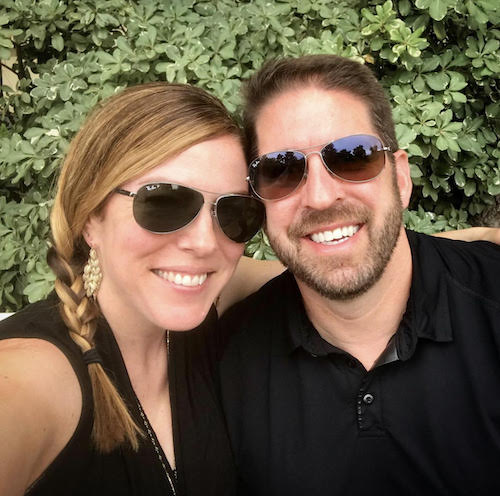 What unique professional experiences do you possess that enhance your abilities as a realtor?
The good thing about a career change in your mid-40's is that you bring a lot of life experience with you. Prior to real estate, I spent over 20 years as a Creative Director for a luxury travel company. I know marketing and I know people, and it has been really fun to bring those skill sets to the table.
What personality traits do you think are important in this profession?
My mom has always teased that everyone in the world is my friend, I just haven't met them all yet. I have learned quickly that this business is all about relationships and how we treat each other, and I am truly passionate about making everyone I work with feel good about their experience. The ability to gain someone else's trust – especially in the world we live in today – is an honor, and the real estate industry is no exception. I just want to do right by people and help make their dreams a reality.
Which areas do you serve?
I live in Poulsbo and focus primarily on this area, Bremerton, and Silverdale. That being said, I have also been known to jump the pond to Seattle or cruise along the coast to find the perfect waterfront home. I'll go where my clients need me: they're always my priority.
How long have you lived here?
I was born and raised in Port Angeles and am a very proud PNW native. I enjoy the quiet pace of the Kitsap Peninsula, and I absolutely LOVE being able to live out the 'Cheers' theme song…where everyone knows your name! There's a true sense of community here, and I think we do our best to look out for each other.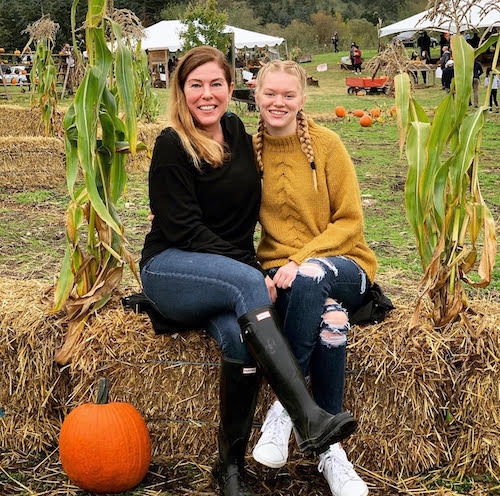 How are you involved in the community?
I have always believed in the importance of giving back to your community. Since I moved here 10 years ago, I have been volunteering in this area: from being the Art Docent when my daughter was in elementary school on Bainbridge, to managing the creative for the Bainbridge Schools Foundation's annual auction, to most recently becoming a proud member of the Crossroads Rotary Club here in Poulsbo. I am grateful for the opportunities I've been given in this community. Giving my time is the least I can do in return.
What made you decide to work with Windermere?
The decision was easy. I wanted to align with the best. My mentor, Carol Sue Barker, was already our realtor for our investment properties and I knew if I could learn from her I'd be winning. We also have the most gracious and available Designated Broker in all of Kitsap County, Nancy Mackleit. These two dynamos have taught me more in the last few months than I could ever have imagined. Windermere is consistently the top-producing real estate firm in Kitsap County for a reason. And at this age, I really don't have time to mess around.
We're so happy to have Melisa! If you'd like to connect with her, you can do so through her website and on Facebook.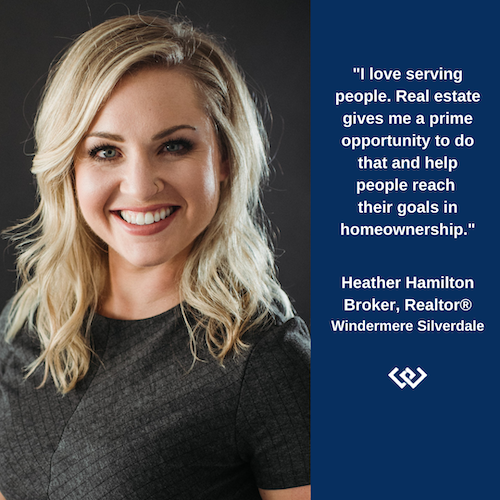 An experienced Broker, Heather Hamilton is new to our Windermere Silverdale office and we're delighted to feature her in our spotlight series. Heather has experience in over $40,000,000 in sales and enjoys working with buyers and sellers in our area. Read on to discover more about Heather's background, professional experiences, and more.
What drew you to real estate?
Real estate is one of the longest known investments/opportunities for people to build personal wealth and safety for their families. I love serving people. Real estate gives me a prime opportunity to do that and help people reach their goals in homeownership.
What unique professional experiences or skills do you possess that enhance your abilities as a realtor?
I've worked in real estate for 7+ years. I have experience working with relocations and buyers and sellers ranging from $100k to $4M. With those experiences, I've learned about different levels of problem-solving and meeting my clients where they are in the buying and selling process.
What personality traits do you think are important in this profession?
Honest and integrity. We are only as good as our word and how we treat others.
What area do you serve and what do you love about it?
I serve all of Kitsap County and love the diversity of the people. Even though the population is large, the area is very community-focused. I love how the pace of life is a little quieter compared to that of Seattle, while still having easy access to what all of our surrounding cities have to offer.
How long have you lived here and what brought you here?
I've lived in Kitsap for almost two years. I'm originally from Minnesota and moved here for my partner and to be close to his family.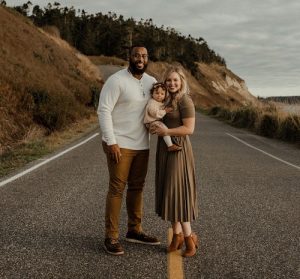 What made you decide to work with Windermere?
The company culture! I've learned over the years how important it is to share the same values as the people you work with. After interviewing with Windermere, it was no question that it was a perfect fit.
We invite you to connect with Heather Hamilton through her Facebook page or her website. We know she's going to continue to help many buyers and sellers achieve their real estate goals, thanks to her strong work ethic, positivity, and integrity.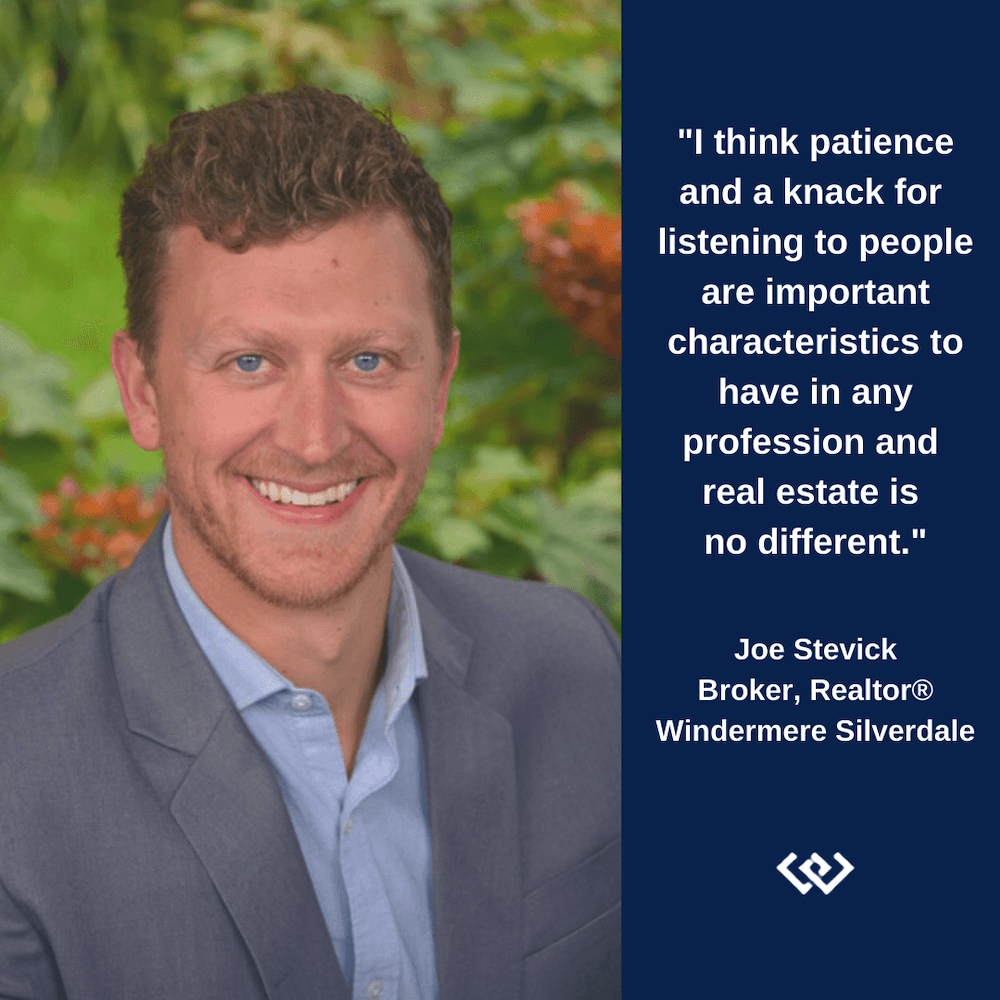 We are proud to feature Joe Stevick in our new Q&A spotlight series. Joe is one of our new real estate agents and brings a range of interesting skills and experiences to the table. He's a lifetime local of Kitsap County who is involved in the communities he serves and he has also spent time working abroad. Read on to find out more about this caring professional who truly puts people first.
What drew you to real estate?
I was drawn to real estate because I love working in service industries and had recently returned to Kitsap County after a long stint overseas. I was also curious about the increasing costs of housing and the worsening problem of homelessness in our area.
What unique professional experiences or skills do you possess that enhance your abilities as a realtor?
I was in the Peace Corps for three years. This, coupled with working as an operations director for a small chocolate factory in Madagascar, has taught me a lot about people and the level of problem solving and patience that is required to get the job done. Peace Corps really teaches you to understand people and to help them in the best way possible.
What personality traits do you think are important in this profession?
I think patience and a knack for listening to people are important characteristics to have in any profession and real estate is no different.
Which areas do you serve and what do you love about those areas?
I serve all of Kitsap County and Mason County. I love these areas because there is a rural lifestyle that still has access to the city if need be. Also, we have an incredibly diverse group of people in these areas, which I love. Helping people integrate and better their new communities is a passion of mine.
How long have you lived here?
I grew up in Kitsap County, going to Esquire Hills Elementary, Ridgetop Junior High, and Olympic High School. COVID-19 brought me back to Kitsap but the people, lifestyle, and natural beauty of the PNW kept me here.
How are you involved in the community?
I am a member of the East Bremerton Rotary, through which I do a lot of work for the Illahee Preserve. Also, I help out at Olympic High School when I can, and still have affiliation with the Olympic High School baseball team.
What made you decide to work with Windermere?
I decided to join Windermere because I could tell right away that its affiliates were nice and welcoming. Windermere has a respected name and it is because its agents are professional and caring. This is what I wanted to be as a new agent.
We are so happy that Joe has joined us. We know his skillset, professionalism, and sincerity will be an asset to buyers and sellers across Kitsap County and Mason County. You can connect with Joe on Facebook, Instagram, or through his website.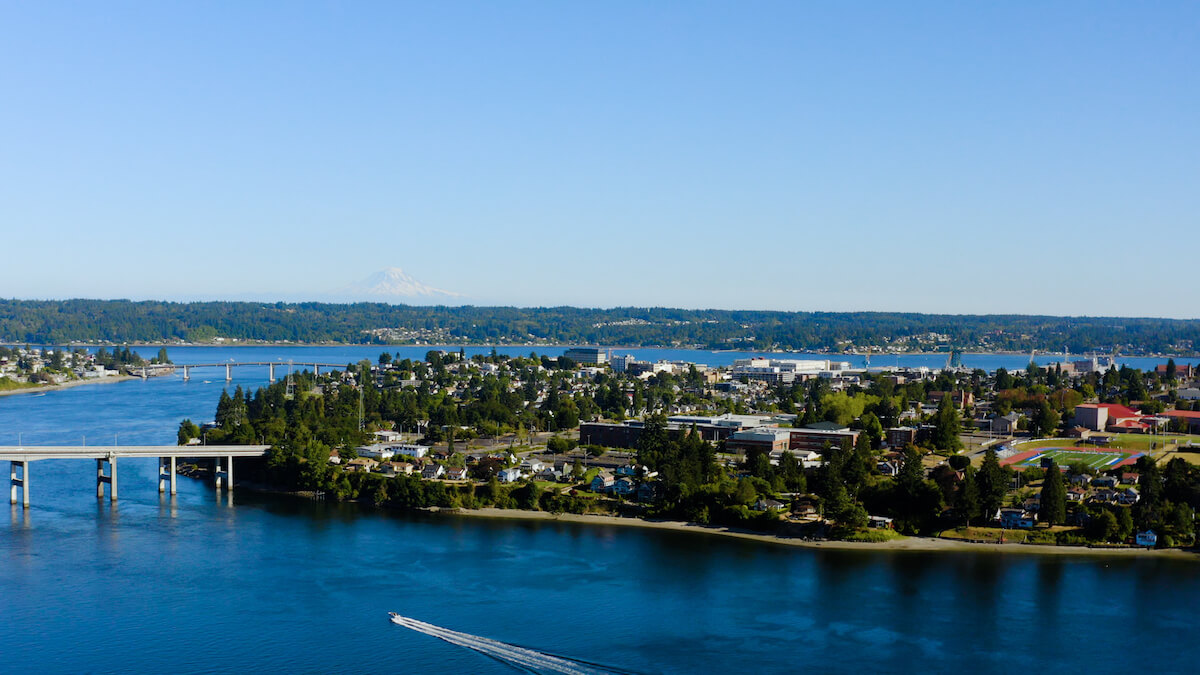 Surrounded by Puget Sound and the Olympic Mountains, Silverdale and Bremerton boast a range of businesses and entertainment as well as a strong military presence.
From Settlers to City
On a beautiful, cloudy day, the Silverdale waterfront gleams with a silver glow.  On shore, a bustling city center houses the most expansive shopping experience on the Kitsap Peninsula. There are local favorites like Purpose Boutique, Lisa Stirrett Glass Art Studio, and Silverdale Antiques. And, you can find everything you need by visiting Kitsap Mall, Trader Joe's, and Costco. Great stops for a bite to eat include popular places like Monica's Waterfront Bakery & Cafe, Jo:a Japanese Restaurant and Yacht Club Broiler.
While it's a strong center for economic development today, Silverdale actually started in a modest fashion. First formed in 1920 as an unincorporated port to serve the logging industry, Silverdale transitioned to a farming town. This gave way to Scandinavian immigrants who became the first permanent settlers in Silverdale. 
Aerial view, Port of Silverdale, 1952
Visitors at the old dock in Silverdale on Dyes Inlet, Kitsap County
In the decades that followed, the introduction to the 'Bremerton-to-Poulsbo Highway' changed Silverdale into Kitsap's busy commercial center. Over time, Silverdale began adding amenities like the popular Silverdale Waterfront Park to honor the proud Old Town port of its early days.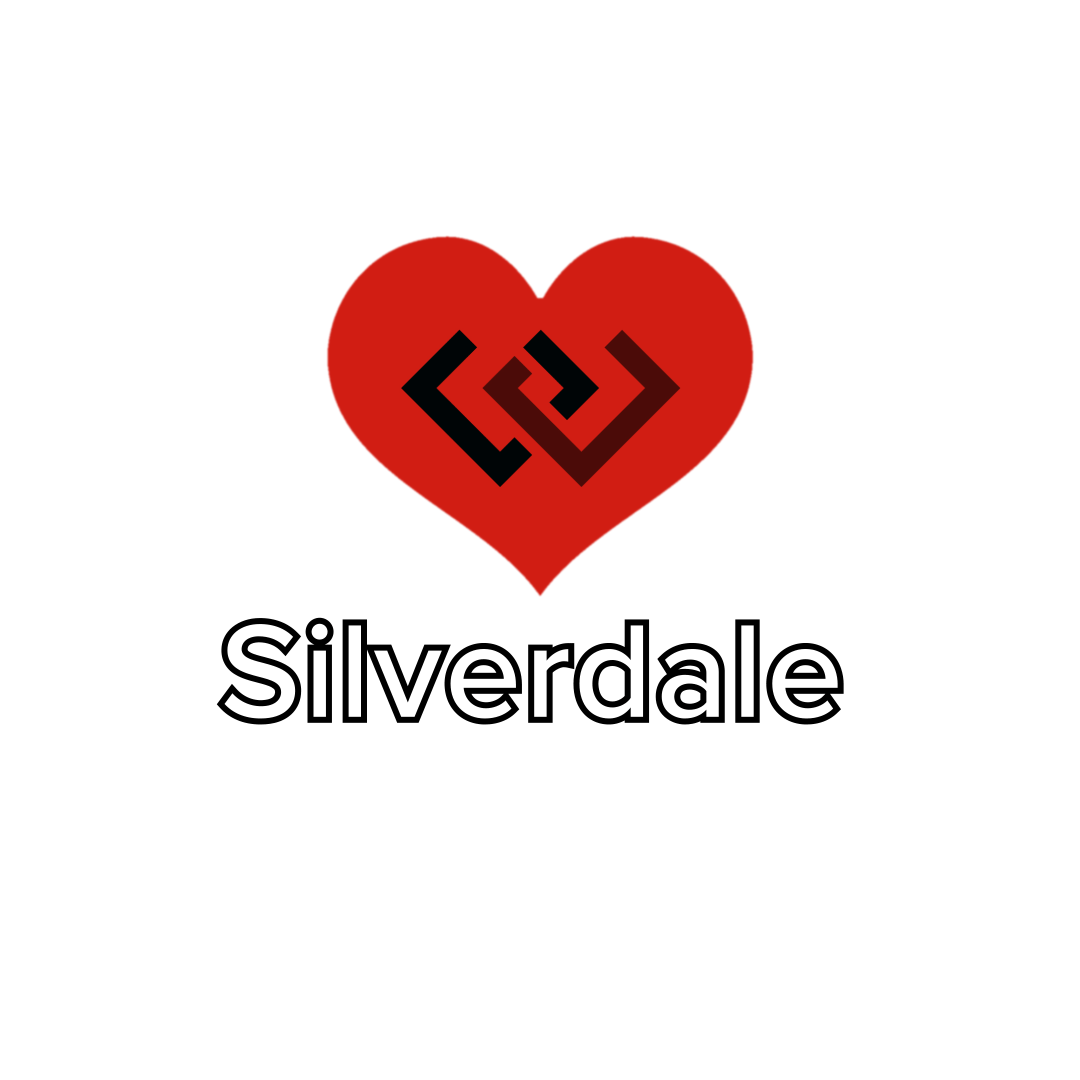 Bremerton's Beginnings
Founded by the vision of Real Estate businessman, William Bremer, and platted in 1891, Bremerton houses the largest Naval Shipyard on the West Coast. The Puget Sound Naval Shipyard survived both World Wars and was even expanded during the Great Depression.
Points of Pride
Today, Bremerton is the largest city in Kitsap County. It has a population of over 41,000.  By ferry, Bremerton residents reach Seattle within an hour to enjoy the larger city life across Puget Sound. While the military defined early Bremerton and still shapes it today, business development paved the way, specifically within the arts. The now-famous Admiral Theatre has housed some of the greatest names in music and entertainment. It sets the stage for an Art Deco-inspired downtown, complete with art galleries and Historic Roxy Theatre.  
And, fun fact: music legend Quincy Jones grew up in Bremerton. The city dedicated an entire square downtown to honor his legacy as the most famous hometown artist. Hysterically, Quincy recalled his Bremerton youth on The Late Show with Stephen Colbert, saying, "What happened was … we wanted to be baby gangsters and like, rule Bremerton."
Bremerton also offers fabulous eateries like La Fermata, voted this year's Best Romantic Dinner in Central Kitsap and Bremerton, and Silver City Brewery, bottling wonderful craft ales alongside gourmet pub food. Axe & Arrow Gastropub offers delicious options as well, and Chef Tabura was the winner of Food Network's "The Great Food Truck Race" in 2013.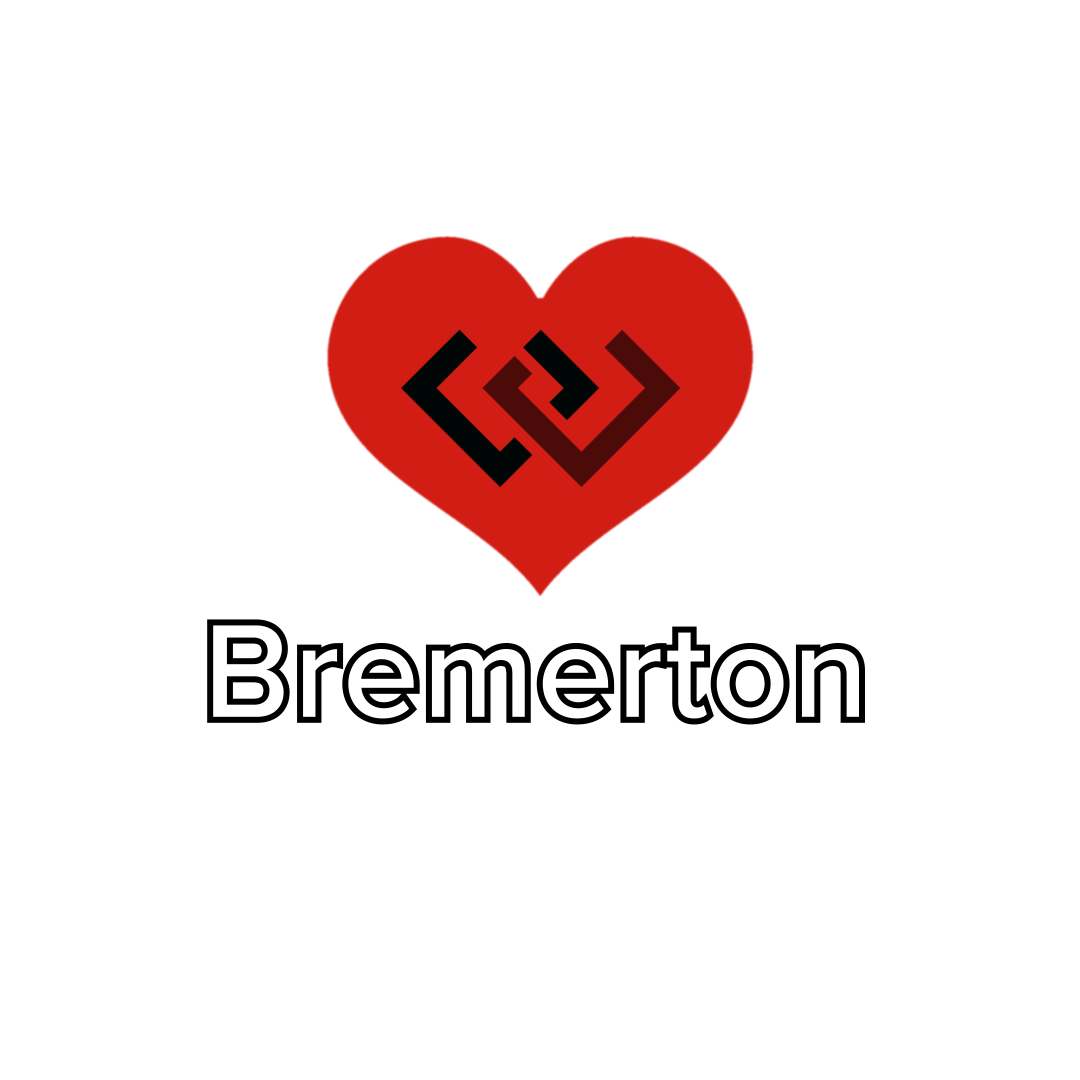 Wonderful Events and Outdoor Escapes
Silverdale and Bremerton are popular shopping and dining destinations with distinct features. Additionally, they offer a strong sense of community through many local organizations and events. Fun annual festivals include the Blackberry Festival, Armed Forces Day Parade, Wayzgoose Arts Festival, and Whaling Days.
These charming cities harbor many larger city conveniences yet they are surrounded by nature. Nestled beside the epic Olympic Mountains, Silverdale and Bremerton offer a variety of nature trails and parks to get away from it all. Here's a starter pack of places to explore: Illahee State Park, Manchester State Park, Newberry Hill Heritage Park, Wildcat Lake County Park, and Old Mill Park. From functional to robust, Silverdale and Bremerton have blossomed into truly unique cities with offerings for all.
Lions Park by Leo Phillips
Silverdale Sunset by Leo Phillips